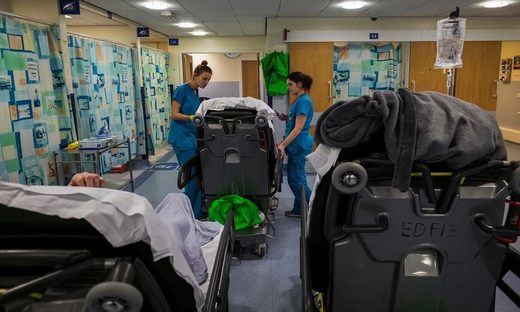 Growing numbers of hospitals are struggling to cope with the onset of the NHS's winter crisis, with one A&E doctor apologising to patients for the "third world conditions" in his overcrowded unit.
Milton Keynes hospital admitted it was under "extreme and sustained pressure" because of the "very high" number of patients turning up
and needing to be treated as medical emergencies.
"We are seeing very high numbers of very sick patients in the emergency department and fewer patients being able to be discharged - many because they also remain in need of acute care. Staff are working under incredible pressure to look after the patients in our care. I cannot overstate that. We are doing our best in extraordinarily difficult circumstances," said the hospital's chief executive, Prof Joe Harrison.
Milton Keynes has opened what it said was "
an unprecedented number of escalation [extra] beds in order to provide care for acutely unwell patients
" and it is asking sick people to avoid their A&E unit and seek help elsewhere, "unless it is a genuine emergency".
Dr Richard Fawcett, a consultant in emergency medicine at the Royal Stoke hospital, tweeted on Tuesday: "As an A&E consultant at University Hospitals of North Midlands NHS Trust I personally apologise to the people of Stoke for the 3rd world conditions of the dept due to #overcrowding."
Many other hospitals have been struggling to cope since Christmas during the cold weather. "Everyone is busy. Many people are talking about
massive queues in corridors. And there's more flu around than usual
," said Prof Chris Moulton, the vice-president of the Royal College of Emergency Medicine (RCEM), which represents A&E doctors.
"It's clearly not just a few isolated hospitals that are having problems.
It's pretty much spread throughout the whole NHS
," he added. The higher than usual prevalence of flu,
especially cases of the influenza A strain, which has caused havoc in Australia and New Zealand in recent months
, was "very concerning [because] it's respiratory illness that tips the NHS over the edge in the winter".
Dr Nick Scriven, the president of the Society for Acute Medicine (SAM) and a consultant at a hospital in the north of England, worked on Monday from 8am until 7pm. He was then called back to work at midnight because so many patients needed help, and stayed until 4am. The SAM represents doctors who care for patients admitted to hospital as medical emergencies but who do not need surgery.
"The position [across the NHS] is as bad as I've known it," he said. "Big issues are currently nursing staffing levels, with extra beds being opened around hospitals to cope with winter surge and
not enough nurses to go round
.
This is the same for doctors and therapists
. Diagnostic facilities in hospitals will be swamped - a vicious circle of increased need causing longer delays in whole system," he added.
The Queen's Medical Centre in Nottingham came under such pressure on New Year's Day that patients were waiting up to six hours to be seen, much longer than the four-hour maximum that should apply. The hospital said it had been "extremely busy".
Many hospitals are buckling under the strain despite intensive NHS-wide planning for a winter that bosses have long feared would be particularly difficult, including measures such as creating extra beds in hospitals and hiring "step-down" beds in nursing homes to help.
Tracy Bullock, the chief executive of Mid Cheshire hospitals NHS foundation trust, tweeted that,
in her 34 years working in the NHS, she had "never seen anything like this
. Relentless and staff have been brilliant". Dr Taj Hassan, the president of the RCEM, warned that patient safety could be at risk because urgent and emergency care is "a system under acute or chronic distress".
One hospital doctor, Chris Turner, tweeted: "It's 0400 and I've been lying awake for the last hour worrying about how we manage the department when my shift starts in 12 hours time. The last time the job felt so impossible for me was Mid-Staffs. This can feel like a personal failure to staff; it's not,
it's a system fail
."