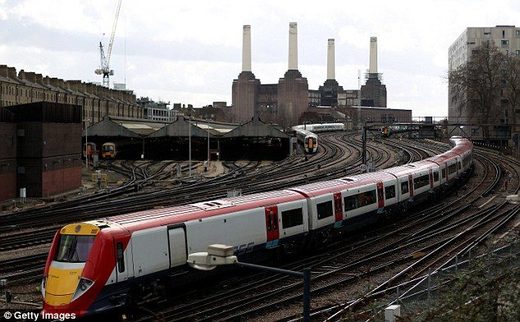 Passengers and staff on Britain's flagship rail line are waking up to trains run by yet another operator. At 7.54am, the first London North Eastern Railway (LNER) service departed from Newcastle, destination London King's Cross.
The state-run operator has been created after Virgin Trains East Coast (VTEC), 90 per cent owned by Stagecoach,
ended its heavily loss-making franchise
on the route from London to Leeds, Newcastle and Edinburgh.
It was the third operator to walk away
after hopelessly optimistic forecasts failed to materialise.
In 2007, the Great North Eastern Railway (GNER), part of the Sea Containers conglomerate, collapsed. That franchise was taken over by National Express, which itself handed back the keys two years later.
Following those failures, the operation was taken back into public hands. During the tenure of east coast railways,
passenger satisfaction and profits
both improved.
In March 2015, Virgin Trains East Coast (VTEC) took over the franchise, agreeing
under the terms of the franchise
"to deliver to the passenger the best railway passenger services that can be obtained from the resources that are available to it".
The Stagecoach/Virgin bid was predicated on Network Rail enhancing the infrastructure by eliminating bottlenecks to allow the train operator to run many more services.
Passenger numbers have grown, bucking the trend on other UK rail services, with a record 21.8 million journeys in 2017-18 - 6.3 per cent higher than when VTEC took over the east coast route in 2015, but well short of growth forecasts.
The firm said: "A slowdown in long-distance rail travel in the early years of the franchise led to Stagecoach/Virgin subsidising premia payments to government with more than £200m of shareholders' money and the early end of the East Coast contract."
The loss is equivalent to £2 per second.
Timetables remains the same, and passengers have been assured that advance tickets issued by VTEC will remain valid.
Staff and management keep their jobs.
Their new employer is legally known as the "operator of last resort"
, and is controlled by the Department for Transport.
David Horne, who was managing director of VTEC and has the same position at LNER,
tweeted
: "As we prepare for Virgin Trains East Coast to become @LNER tonight, a heartfelt thank you to the amazing VTEC team.
"For giving exceptional customer service, for determination at times of adversity, for your vision and your passion - and for saving lives. A very big thank you!"
Martin Griffiths, chief executive of Stagecoach Group, said: "Our people can be fiercely proud of everything they've achieved: from delivering huge investment and high levels of customer satisfaction, to providing new services and benefits for passengers and creating hundreds of new jobs.
"The growth we're now seeing proves our initiatives are paying off."
Shiki-Shima: The world's most luxurious train?
In
a survey of views of east coast staff
by the RMT union, one staff member said: "VTEC bid
a staggering over bid that in my view could never be achieved."
The RMT general secretary, Mick Cash, said: "Three private operators (GNER, NXEC, VTEC) have failed on East Coast with bids promising £1.3bn, £1.4bn and £3.3bn respectively. Privatisation has been a total failure."
The transport secretary, Chris Grayling, said: "When it is fully formed the new LNER operation will be a partnership between the public and private sectors.
"In all circumstances ownership of the infrastructure will remain in the public sector, but the railway is at its strongest when it is a genuine partnership between public and private."
Virgin Trains' west coast business, which has operated from London to Birmingham, Manchester, Liverpool and Glasgow since 1997, is a separate enterprise and is unaffected by the failure of VTEC.