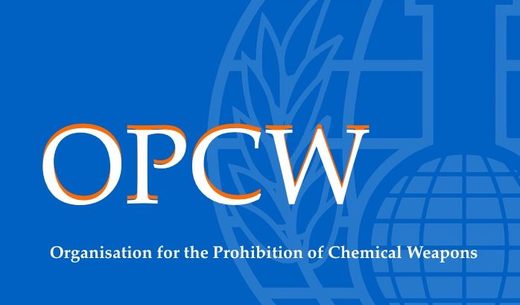 No traces of any nerve agents have been found at the site of a suspected chemical attack in the Syrian city of Douma, Reuters says, citing an interim report issued by the OPCW.
However, traces of chlorine were found at the site.
"Various chlorinated organic chemicals were found in samples" from two locations in the Damascus suburb of Douma, which were examined by specialists from the Organization for the Prohibition of Chemical Weapons (OPCW), Reuters reported, citing an interim document obtained from the chemical weapons watchdog.
Meanwhile, the report confirmed the absence of any traces of nerve agents, such as sarin, at the site.
The OPCW sent a fact-finding mission to Douma in April, around a week after the alleged incident.
During the same month,
Russia said that chlorine containers from Germany, which apparently belonged to militants, were found in the liberated parts of Douma.
Later, the
Russian military found an entire laboratory operated by militants in central Douma, which was capable of producing chemical weapons
.
The lab had some sophisticated equipment, including an industrial chemical reactor, which was apparently used by the militants to create toxic agents. The footage, taken by Russian journalists inside the facility, also showed vast stockpiles of various chemicals, some of which were produced in Germany, as well as empty mortar shells that can be filled with poisonous substances.
The purported chemical incident in Douma allegedly took place on April 7. A week later, Washington and its allies launched a massive retaliatory missile strike against Syria, without waiting for the OPCW to start its investigation of the incident.