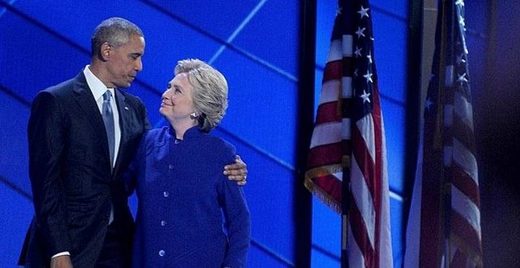 She had much of the Obama administration working for her campaign.
The only government that we know with certainty colluded with a campaign in 2016 was Obama's -
figures across his administration, both high and low, were using their power to help Hillary and hurt Trump.
She had plants at the Justice Department, one of whom was giving her campaign chairman updates on the email probe (
Peter Kadzik
); she had two CIA directors, one past, one present, campaigning for her (
Mike Morell
, who wrote an Op-Ed endorsing her while calling Trump an "agent" of the Russians, and
John Brennan
, who helped launch an unfounded counterintelligence probe against Trump and then leaked about it); she had
a raft of John Kerry aides
at the State Department circulating her paid opposition research from the former British spy
Christopher Steele
, with one of them,
Jonathan Winer
, serving as a conduit between Steele and another one of her opposition researchers,
Cody Shearer
(it has come out through a Senate hearing that Steele even visited the State Department in person before election day); she had
Loretta Lynch
and
Sally Yates
trying to tamp down the email probe; she had
Bruce Ohr
, whose wife worked with her opposition researcher, stoking the sham Russian investigation;
she had cronies at the White House blasting Trump on a daily basis, not to mention Obama himself hitting the campaign trail with her.
Yet Hillary, ever the ingrate, continues to portray herself as the orphan in the race, reserving special scorn for the very figure who made her campaign's viability possible, James Comey, who spared her a campaign-ending indictment on his own say-so. Hillary's need for self-vindication is even greater than her desire to see Mueller lay the groundwork for an impeachment case; hence, her willingness to join in the discrediting of Comey, Mueller's presumed star witness. Hillary couldn't resist needling Comey for having used personal email to conduct public business himself, one of the revelations in the Inspector General's report.
The imperiousness of Hillary's complaint is comic, but it is just ludicrous enough to serve as a coming attraction for the kind of defense Strzok and company will mount before Congress and prosecutors.
Don't be surprised if they end up arguing that they didn't help Hillary as much as they could have and didn't hurt Trump as much as they should have. Peter Strzok's lawyer is already rehearsing a version of this defense in the pages of
USA Today
.
He says his client, whom he describes as a sainted "centrist," didn't share the Justice Department's more "cautious" approach to the Hillary probe, while Strzok refrained from deploying damaging leaks against Trump during the Russian one. "In October 2016 Pete was one of a handful of people at the FBI who knew the full scope and gravity of the Russian investigation. Significantly harming - even stopping - the Trump presidency could have been accomplished by leaking that information to the news media," he writes. "Instead, Pete and others at the FBI went out of their way to prevent leaks, and, in the weeks before the election, actively ensured that news reports didn't overplay the seriousness of the investigation."
In other words, he was leaking to reporters but his leaks could have been much worse, according to his lawyer. How? By making stuff up?
The
New York Times
reporters working on that story say that the leaking began
almost immediately
after the probe started - Strzok and others had been talking to them about it for "six weeks" during the thick of the campaign - and that they had hoped the leaks would go into a more negative story than the one the paper ended up running. The reporters on the story complained, according to the authors of
Russian Roulette
, Michael Isikoff and David Corn, that their editors put the focus on the investigation's fruitlessness up to that point rather than the existence of the probe itself.
Strzok's lawyer is asking us to believe that the supposed good leaks in the story - the ones describing the investigation responsibly - come from Strzok. But how do we know that? For all we know, they came from his colleagues and he is now taking credit for them opportunistically. In any case, it is silly to say you're a responsible leaker when an FBI agent shouldn't be leaking at all, or to say that an investigation that should never have started proceeded properly. It is like a bank robber defending himself from a prison term by saying he only took $100,000 when he could have taken a million.
Strzok told his mistress that he wanted Hillary to beat Trump "100,000,000-0," and that he would "stop" his victory. It appears that Strzok deleted the latter text, not realizing that his FBI device had stored it elsewhere, only to be excavated later by Horowitz's Internet wizards. Hillary's fiends in high places were hoist by their own petard, thereby revealing the most grotesque irony in the 2016 race:
one government did most certainly and corruptly interfere in it - theirs.
George Neumayr, a contributing editor to The American Spectator, is author of the new book, The Political Pope: How Pope Francis Is Delighting the Liberal Left and Abandoning Conservatives. He is co-author of an earlier book, No Higher Power: Obama's War on Religious Freedom.