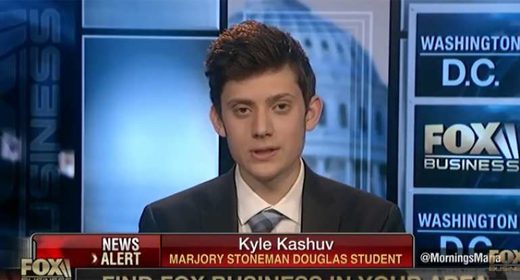 Kyle Kashuv, a pro-Second Amendment student at Marjory Stoneman Douglas High School, roasted former President Obama on Twitter Thursday for writing an essay praising only the school's pro-gun control student activists for
Time
magazine.
Seventeen people were killed and seventeen more were wounded at the Parkland, Florida, school on February 14, making it one of the deadliest school massacres ever.
On Thursday,
Time
released its list of the 100 most influential people. It included some Parkland survivors -- but only pro-gun control survivors: Cameron Kasky, Jaclyn Corin, David Hogg, Emma Gonzalez, and Alex Wind.
While the teenage activists have certainly become fixtures on certain liberal news networks, it's not yet clear how influential they've been in the gun debate.
Public support for stricter gun control laws surged in the wake of the shooting, but a recent Quinnipiac University poll showed support
decreasing significantly.
Nonetheless, Obama wrote a gushy tribute praising the student gun-grabbers and crediting them with "shaking us out of our complacency" with their activism.
"The Parkland, Fla., students don't have the kind of lobbyists or big budgets for attack ads that their opponents do," Obama wrote
disingenuously.
The outspoken Kashuv had something to say about that: "This is so rich coming from @BarackObama," he clapped back.
In another tweet, Kashuv dinged Obama for not recognizing Andrew Pollack and Ryan Petty, both fathers of students killed during the massacre.
"It's an absolute shame that @BarackObama gives no credit to @rpetty and @AndrewPollackFL who actually got the legislation passed," Kashuv wrote.
Kashuv himself has met with lawmakers on Capitol Hill and Supreme Court Justice Clarence Thomas.
On Friday, the young activist plans to host
a "Facebook Live" event
from 10:00 AM-11:00 AM with guests discussing "ways to save lives without infringing on 2A and the importance of mental health and not bullying."