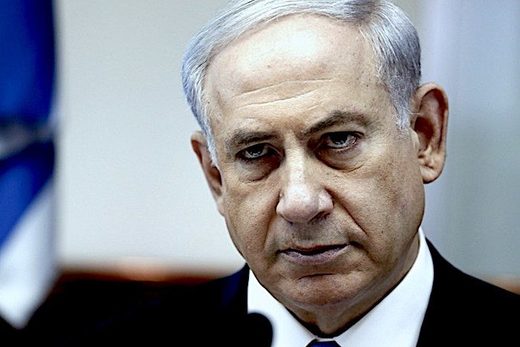 Days after an Israeli human rights group urged soldiers to refuse orders to shoot at Palestinian protesters in the Gaza Strip along the fence that divides the occupied territory from Israel,
Israel's Prime Minister Benjamin Netanyahu yesterday accused the group of "outrageous absurdity" and defended the military for their "holy work."
Last week the Israeli human rights group B'Tselem launched the advertisements,
"Sorry Commander, I cannot shoot,"
to persuade soldiers deployed along the border with Gaza to convince them to disobey orders to use live-fire against Palestinian protestors.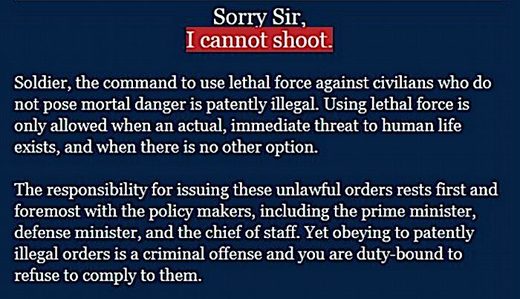 In an apparent response to the campaign Netanyahu said in a cabinet meeting this morning,
"I see the outrageous absurdity that people are going up to IDF soldiers, who are defending them from annihilation, and are calling them terrorists."
"They attack the IDF soldiers who act to thwart this destruction. There can be no greater absurdity. I think that every day, but especially today,
we are all aware of the great contribution that the soldiers of the IDF make to the security and future of Israel,"
he continued.
Netanyahu added that
Israeli soldiers "need to do their holy work," and referred to the Palestinian protesters as "terrorist."
Hours later Netanyahu's spokes person Ofir Gendelman commented on social media that Israeli soldiers are carrying out a "holy mission of defending Israel."
The prime minister is not the first to accuse demonstrators in Gaza of having ties to terrorism.
The Israeli military has alleged the demonstrations are "riots" and charged that Palestinians carry firearms. However, protest organizers have said the crowds are non-violent.
While Palestinians have burned tires during the confrontations and thrown stones towards the fence, media outlets reporting on the ground have also observed that there are no guns among the tens of thousand of protesters.
During the last day of marches on Friday, Israeli soldiers killed a Palestinian journalist, Yaser Murtaja, who had recently received a grant of more than $10,000 from the State Department. In the aftermath of his killing Israel's Defense Minister Avigdor Liberman stated Murtaja had ties to Hamas. Israeli media criticized the Liberman's labeling as baseless.
Organizers of the Great March of Return have called for weekly Friday protests over a six-week period, culminating mid-May.
During the last two weeks of protests near the fence Israeli forces killed 30 Palestinians and injured more than 2,860, according to Gaza's ministry of health.
Allison Deger is the Assistant Editor of Mondoweiss.net.