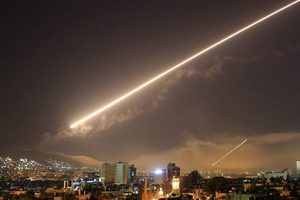 Syrian air defense systems protecting Damascus - the oldest continuously-inhabited city on Earth - from Western airstrikes, 14 April 2018
If you look for truth, you may find comfort in the end; if you look for comfort you will not get either comfort or truth only soft soap and wishful thinking to begin, and in the end, despair.
- C. S. Lewis
Recent Comments
Yikes...born and raised in Chiraq...back in the '80's, an entire week of -60 with the wind chill...nice in the summer there, sucks the rest of the...
---
So much for the idea of "Best Practices".
---
So this is the source of photos the "global cooling alarmists" adore their blogs and the like :) Good to know. But when the real snow hits hard,...
---
Drives himself. No huge convoys. No Armoured Cars. No Closed roads. Obeys traffic rules. Stops at TRAFFIC lights. Unheard of by any leader....
---
Yes, this can be done privately, and in a way which won't be exposed to the authorities. Also, this explanation about refusal is absurd, unless...