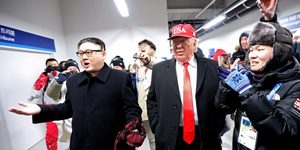 Did The Donald and Rocket Man secretly meet at the Winter Olympics in PyeongChang?
"In keeping silent about evil, in burying it so deep within us that no sign of it appears on the surface, we are implanting it, and it will rise up a thousand fold in the future. When we neither punish nor reproach evildoers, we are not simply protecting their trivial old age, we are thereby ripping the foundations of justice from beneath new generations."
- Aleksandr I. Solzhenitsyn
Recent Comments
Reading the book Inside the criminal Mind by Samenow puts all this in perspective. A criminal mind mixed with Postmodernism and you have a toxic...
---
I was 100k down the coast when that one went over and it looked like it was a cracker, amongst the damage it caused it was a very impressive light...
---
I get why FE is appealing to so many, there is something incredibly unusual (wrong) with our reality and it can be felt. FE can provide an answer...
---
People need to stop drinking the cool aid. Human interference with Mother Nature (vaccines) as well as lack of respect for good health and immune...
---
"that the near-consensus among scientists on human-caused climate change"... Hold on a minute Mr Pinker! As a SOTT reader (a growing minority...