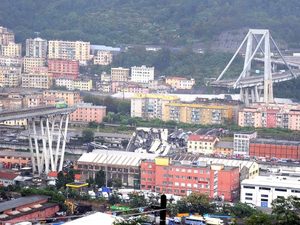 14 August 2018: Morandi Bridge in Genoa, Italy, collapses during a storm, killing 35 people
Shared pain is lessened; shared joy, increased - thus do we refute entropy.
- Spider Robinson
Recent Comments
Oh ,c'mon sbc...you think the land and all of it's rights will be given to the black South Africans? No way! Bayer et al have signed the...
---
The would have altered his handicap marginally.....
---
The biter was a short/dwarvish type; about 4' tall, wiry, but strong. Hairless. (Genetic alopaecia? Possibly albino.) Bulging eyes... tends to...
---
Transparency is a great thing and should be applied to all the so-called intelligence organisations. They play the security card too often.
---
Freedom of speech is a fundamental principle of US democratic freedom. Trump is the first POTUS to address this issue and not cover it up.