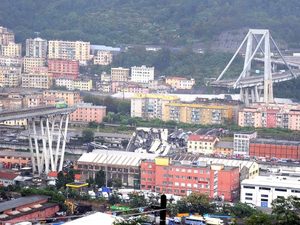 14 August 2018: Morandi Bridge in Genoa, Italy, collapses during a storm, killing 35 people
Shared pain is lessened; shared joy, increased - thus do we refute entropy.
- Spider Robinson
Recent Comments
This Press group allowed for lies and propaganda about Marijuana to go unchallenged. Truly the largest conspiracy ever perpetrated EVER......
---
Chicago has 200 murders a week of blacks killing blacks and the sick liberal nation says nothing... Blacks kill whites every day, but again,.......
---
Sarah Jeong is on the New York Times editorial board even though she Tweeted about the joy she gets out of being "cruel to old white men." This...
---
Mainstream Media may not be fake ... But they are definitely LIARS.....
---
Brennan is a habitual liar ... He's lied to congress, to the press and to the American people. He should be in PRISON. I wouldn't trust him with a...