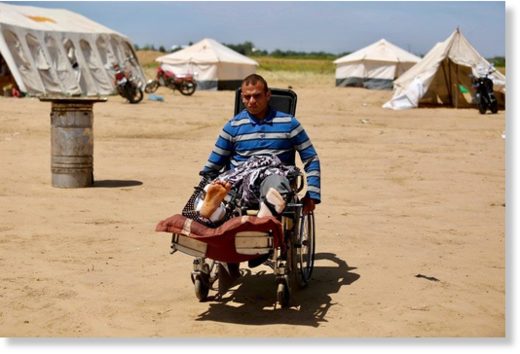 Israeli leaders who ordered troops to open fire on Palestinians taking part in the
Great March of Return
rallies in Gaza last Friday, even though marchers posed no threat, bear personal responsibility for the deaths and injuries, Human Rights Watch
said Tuesday
.
They are responsible for "calculated" killings of unarmed civilians in violation of international law, the human rights group states, warning that Israeli leaders could face prosecution abroad.
In a detailed report on Israel's violence against the marches that coincided with the Palestinian commemoration of
Land Day
, Human Rights Watch dismantles Israeli claims that the use of military snipers against civilian demonstrators was justified by a "terrorist" threat.
Human Rights Watch reaches two key conclusions: the Israeli violence against Palestinians was premeditated, illegal under international law, and ordered at the highest level; and Israel has presented no evidence whatsoever of any credible threat that would justify the violence it used on the day.
The report points to evidence of numerous instances in which troops targeted Palestinians far from the Gaza-Israel boundary fence.
The death toll from 30 March has now risen to 18 - the bloodiest single day for Palestinians since Israel's 2014 assault on Gaza.
These include 14 Palestinians killed when Israeli forces opened fire on thousands of people taking part in rallies along the Gaza-Israel boundary protesting Israel's siege of the territory and demanding the right for refugees to return to lands from which they were expelled by Israel.
Approximately 1,400 were injured, including around 800 people hit with live ammunition.
On Monday, an additional protester died from injuries sustained on Friday. T
he first
killing
on 30 March was of Omar Samour, a farmer tending his field at dawn.
The same day, two Palestinian resistance fighters were killed in a
separate incident
in the north of Gaza away from the protest rallies.
And on Tuesday, Israeli forces
killed
25-year-old Ahmad Omar Arafa with a bullet to the chest during a demonstration east of al-Bureij refugee camp, near the boundary with Israel.
"Acting on orders"
"Israeli soldiers were not merely using excessive force, but were apparently acting on orders that all but ensured a bloody military response to the Palestinian demonstrations," Eric Goldstein, Human Rights Watch's deputy Middle East director, said of Friday's bloodshed. "The result was foreseeable deaths and injuries of demonstrators on the other side of a border who posed no imminent threat to life."
"The killings highlight the importance of the International Criminal Court prosecutor opening a
formal investigation
into serious international crimes in Palestine," Human Rights Watch said.
The ICC chief prosecutor Fatou Bensouda has however for years been
refusing or dragging her feet
about whether to place Israeli leaders and commanders under formal investigation, despite a
mountain of evidence
turned over to her office by human rights investigators.
Premeditation
Human Rights Watch notes that in the days before the planned marches, "Israeli officials repeatedly proclaimed their intent to fire on 'instigators' and those approaching the border fence."
Israeli army chief Gadi Eisenkot announced the deployment of 100 snipers and declared that "
The orders are to use a lot of force
."
Israeli Prime Minister Benjamin Netanyahu's Arabic spokesperson Ofir Gendelman posted a
video of a man shot in the leg
, stating, "This is the least that anyone who tries to cross the security fence between Gaza and Israel will face."
And on the morning of 30 March, defense minister Avigdor Lieberman
tweeted
in Arabic that "Anyone who approaches the border puts his life in jeopardy."
"Entering a zone declared off limits should not be a crime considered punishable by death," Human Rights Watch said.