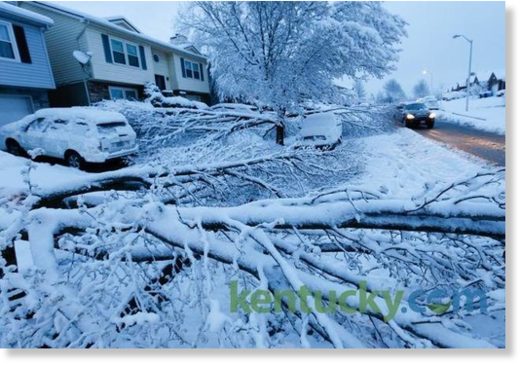 A winter storm that dumped up to 8 to 10 inches of snow in Lexington overnight clogged secondary roads and weighed down or
broke limbs and power lines Monday.
Lexington police responded to three injury collisions and 41 non-injury collisions from 4:45 a.m. to 9:45 a.m. Officers also responded to 73 motorist assists in that time frame and 65 traffic hazards, such as trees down, low hanging wires and particularly poor road conditions. Some of those included vehicles that ran off the roads.
Susan Straub, a spokeswoman for the city of Lexington, said since around 4:45 a.m. the vast majority of those 65 traffic hazards -- about 50 -- were for downed trees. City crews were working to remove the road hazards, Straub said.
Portions of several roads, including Interstate 75, were blocked by the fallen limbs, trees, electrical wires, stranded vehicles or wrecks.
For example, there were reports of a non-injury collision involving three vehicles on I-75 north near the Paris Pike exit , and a large tree down on Cooper Drive near Cassidy Avenue. The Kentucky Transportation Cabinet reported injury crashes on both sides of the I-75 Clays Ferry Bridge between Fayette and Madison counties, resulting in the bridge closing for around a half hour.
The state Transportation Cabinet District 7, which includes Fayette County, was plowing and treating roads in each of its 12 counties.
Various businesses, including bank branches, dentists and doctors, dry cleaners, veterinarians, day-cares centers and churches have closed or delayed their openings Monday.
The Lexington-Fayette Urban County Government was working on a three-hour delay.
Power outages from downed lines caused sporadic problems. Kentucky Utilities reported 967 customers without power at 7:15 a.m. due to the snow on trees taking down power lines. The majority of the power outages are in the Crestwood area, along with a section near Idle Hour Country Club.
About 27,200 Kentucky customers were without power in Central and Eastern Kentucky
as of about 9:30 a.m., according to the Kentucky Public Service Commission. Utilities affected included Inter-County Energy, Jackson Energy, Kentucky Power and more.
As snow moved to the eastern part of the state, it led to many more trees falling on power lines. Johnson, Jackson, Rockcastle and Lawrence counties have more than 1,000 reported power outages, according to WYMT.
Following additional snow showers and flurries Monday night, a "much more pronounced snow shower/squall" will make its way to the area Tuesday, according to WKYT chief meteorologist Chris Bailey.
A March snow is not unprecedented, according to National Weather Service meteorologist Brian Schoettmer.
"We can get some pretty big snows in March," he said. "We can go the whole month without snow, or we could have a really snowy month."
Lexington received 17.1 inches of snow in March 2015 and 7.5 inches in 2014, according to the weather service. In the last two years, there was less than an inch of snow in Lexington in March.
Monday's storm occurred on the 25-year anniversary of the 1993 blizzard that dropped as much 30 inches of snow a two-day span in Eastern and Southeastern Kentucky. The 24-hour snowfall record for that state was set during that blizzard, when 25 inches fell in Hazard.