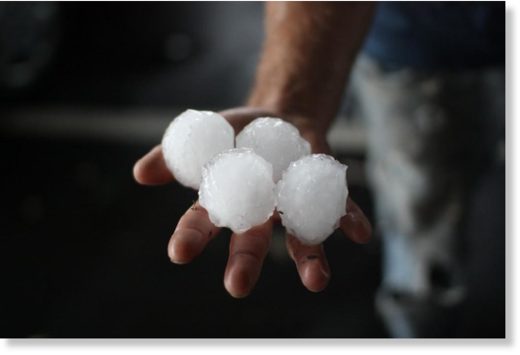 Gajendra Singh Shekhawat, Minister of State for Agriculture and Farmers Welfare, informed the parliament today that
hailstorms and unseasonal rains have caused huge damage, especially to northern states in India.
Hailstorms and unseasonal rain caused damage to 4.76 lakh hectares of crop in February in Punjab, Chhattisgarh, Haryana, Maharashtra, Uttar Pradesh, Madhya Pradesh, Rajasthan, Telangana and Karnataka.
While responding to an unstarred question regarding damage to crops due to unseasonal rains and hailstorms, he said Maharashtra has been the worst hit so far, with the state having the highest share of crop areas affected. Maharashtra is followed by Uttar Pradesh, Telangana, Madhya Pradesh and Chhattisgarh (see Table). Around 300,000 hectares of
crops like jowar, gram, wheat and horticulture crops like orange, grapes, bananas, and vegetables were damaged.

Similarly, around 100,000 hectares of crops like wheat, gram, peas, lentils, rapeseed and mustard were damaged in Uttar Pradesh.
The list has not included crop area damaged in March,
especially in Rajasthan and Haryana.
Centre says responsibility for providing relief to farmers lies on states
The minister also stated that states, and not the Centre, are primarily responsible for providing relief to affected farmers. "The state governments are primarily responsible for taking immediate measures in the wake of all natural calamities. The government of India supplements the efforts of the states with financial and logistic support. State governments to address the notified calamities by utilising the funds under State Disaster Response Fund (SDRF) and states submit memorandum as per procedure or norms, if additional financial assistance is required from National Disaster Response Fund (NDRF). Meanwhile, it can utilise contingency fund of states if SDRF is exhausted," says the minister.
He also stated that the Department of Agriculture, Cooperation & Farmers Welfare (DAC&FW) has not received any proposal from the state governments seeking support under NDRF for crop losses due to hailstorm in February 2018. Earlier, Down To Earth reported that the affected farmers are demanding compensation
after losing 50 per cent to 90 per cent of their standing crops.