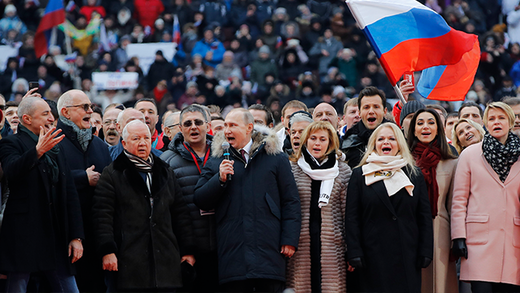 Thousands of people gathered at Luzhniki Stadium in Moscow on March 3 to attend a rally for Vladimir Putin as Russia prepares to hold the presidential election on March 18. The President was there in person to address the crowds.
A campaign rally gathered
over 130,000 people
in the capital city of Russia. Vladimir Putin addressed the rally:
"We have clear, coherent, noble goals. We want to make our country vibrant, a country that's looking forward to the future, because our ancestors lived here, we live here, our children live here, and our children and grandchildren will live here. We will do everything to make them happy. Nobody can do this for us but us. And if we do this, the nearest decade, the whole 21st century, will pass under the sign of our bright victories."
The President recalled that the Russian hockey team sang the national anthem after
winning the gold medal
in South Korea on February 25 without the corresponding music (as they were regarded as "neutral" athletes over a doping scandal) and called for the crowd to join him in singing the anthem together, this time with the accompanying music.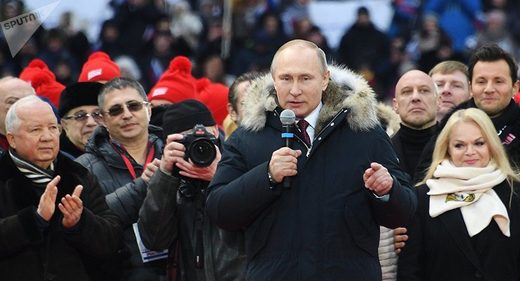 Earlier in the day, a source in the Kremlin said that the pre-election key points of Vladimir Putin, which would reflect his economic and political plans for the development of Russia, would be clarified in the coming days.
Meanwhile, the independent non-governmental organization Public Opinion Foundation (FOM) recently revealed the results of the survey that over 60 percent of Russians would cast their ballots for Vladimir Putin. According to FOM, the turnout at the upcoming vote could exceed 80 percent.
The presidential election in Russia is set for March 18, while the campaign started on December 18.

Comment: That's it; just 3 months. No 4-year-long monumental waste of money and time.


Apart from Vladimir Putin who is running as an independent candidate, the list of contenders comprises Sergey Baburin from the All-People's Union party, Communist Party candidate Pavel Grudinin, head of the Liberal Democratic Party of Russia Vladimir Zhirinovsky, Civil Initiative party candidate Ksenia Sobchak, Communists of Russia party Chairman Maxim Suraykin, business ombudsman Boris Titov, and co-founder of the Yabloko Party, Grigory Yavlinsky.