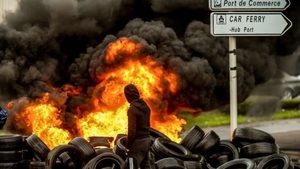 French fishermen have blocked the ports of Calais and Boulogne in protest at so-called pulse fishing, which uses electrified nets to stun fish. Fishing boats stopped ferries entering or leaving Calais while a roadblock stopped traffic at Boulogne. Calais is a major link between the UK and France used by thousands of tourists and lorries every day.
The European Parliament recently voted to ban pulse fishing which is mainly used by Dutch trawlers.
The head of P&O Ferries, Janette Bell, said the blockade of Calais was "utterly unacceptable". It was lifted at 16:00 GMT, though the ports were expected to take a while to get back to normal. The fishermen said they would meet government officials on Friday to discuss the issue.
The English port of Dover was also hit by the action, with P&O and DFDS Seaways suspending some scheduled services. DFDS later rerouted some services through Dunkirk while P&O advised some customers to use the Channel Tunnel.
Fishermen in Boulogne set pallets and tyres alight on an access road while two French boats blockaded an area of the port where Dutch trawlers unload their catches.
Stéphane Pinto, vice president of the regional fisheries committee, said a small flotilla of boats had sailed to Calais from Boulogne and other boats from Dunkirk had joined them. He said the fishermen faced financial losses because of the use of pulse fishing.
"
We're at our wits ends. We feel abandoned
," he added.
The controversial technique involves trawlers using nets that generate an electric current, stunning the fish and making them float upwards where they are easier to catch.
The Netherlands is the biggest user of this method in the EU, and argues that it is better for the environment than traditional trawling. However, the practice has inflamed French fishermen who complain it is depleting stocks
. The French conservation group Bloom is also campaigning against the method.
Following its vote, the European Parliament will hold long negotiations with the European Commission and member states to agree a package of measures to streamline regulations for fishing. However Dutch trawlers can continue to use pulse fishing until the new legislation comes into force.