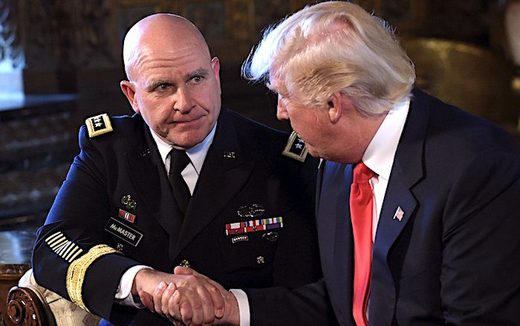 National Security Adviser H.R. McMaster said Thursday that President Donald Trump's approach to foreign policy is beyond his "comfort zone," suggesting he has altered the global community's view of the United States - though not necessarily in a negative way.
Trump's approach to foreign policy "has moved a lot of us out of our comfort zone, me included," McMaster, 55, a three-star Army lieutenant general who served in Afghanistan and Iraq,
told The New York Times
.
"The consensus view has been that engagement overseas is an unmitigated good, regardless of the circumstances," he said.
"But there are problems that are maybe both intractable and of marginal interest to the American people, that do not justify investments of blood and treasure."
McMaster defined Trump's foreign policy as "pragmatic realism," not isolationism.
The president has repeatedly attacked multilateral trade deals and other international agreements.
McMaster has advised President Trump through several international scenarios, including the rising tensions with North Korea over its nuclear ambitions and the president's decertification of the Iran nuclear deal in October.
Trump has held more than 130 meetings and telephone calls with foreign leaders since taking office Jan. 20, the
Times
reports,
though some foreign leaders still remain puzzled on how to deal with him
.
"Most foreign leaders are still trying to get a handle on him," Richard Haass, a top State Department official in the George W. Bush administration, told the
Times
. "Everywhere I go, I'm still getting asked: 'Help us understand this president, help us navigate this situation.'"
Haass is now president of the Council on Foreign Relations in Washington.
"We're beginning to see countries take matters into their own hands," he told the
Times
.
"They're hedging against America's unreliability."