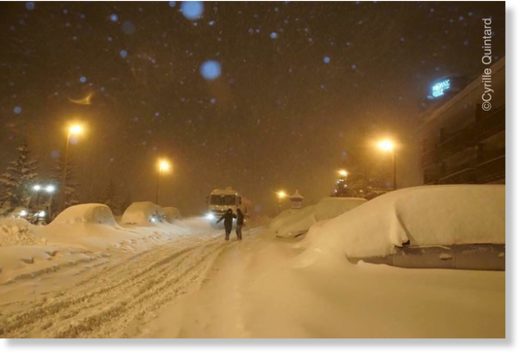 The exceptional snowfall that has been a feature of the start of the 2017-18 ski season on the Alps is continuing today with
the second huge snowfall in four days hitting the Alps and other ski regions of Europe.
Forecasters are also now saying a third big snowfall will hit during the first 48 hours of 2018 at the start of next week.
All the snow is causing travel issues for skiers and boarders trying to get too and from ski resorts on what is, in any case, traditionally one of the busiest Saturdays of the year ahead of the peak New Year week.
However in most cases drivers have heeded warnings to be prepared including obligatory fitting of chains for the ascent to many resorts and traffic is getting through, if more slowly than usual.
Another skier heading in the other direction down the mountain from Val Thorens at the same time described the conditions as "carnage" and estimate a metre more snow had fallen there overnight. The Cross family arrived before the resort closed the access road from noon to 1pm for avalanche maintenance.
Snow reporting agency Snow-Forecast.com, which is celebrating 20 years of operations, have said that the start to this season is the snowiest, overall, this century.
This is Avoriaz:
Snow cake in Avoriaz

There is so much snow in Avoriaz!!

Posted by Snowboxx on Saturday, 30 December 2017
Snow depths at many areas now have past the 2 metre mark, with some above

3 metres (10 feet)

following months of successive snowstorms, and Engelberg in Switzerland reporting

4.23m (over 14 feet) of snow

on its upper slopes.
Fresh snow in the past 24 hours include reported totals of up to 60cm (two feet) at Tignes, with 50cm at Alpe d'Huez (pictured above this morning), Gstaad and 49cm at Valmorel. Many other areas have report 30-45cm.
The snow on the ski slopes has been accompanied by strong winds in many areas and torrential rain at lower altitudes.
The snow at the start of next week is likely to be a further 40-60cm at most areas.