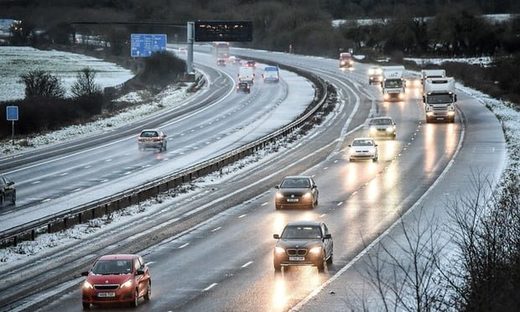 Motorists have had to abandon their vehicles in icy conditions in the Lake District and hundreds of passengers have been stranded at airports after their flights were delayed, with the
bad weather expected to cause further travel disruption across the UK.
The Met Office issued a yellow warning for ice across large parts of the UK stretching into Thursday morning, and isolated snowfall was expected on higher ground in England, Wales and Scotland.
About 300 people were stuck at Stansted airport late on Wednesday evening while waiting to rebook flights following a series of Ryanair and easyJet flight cancellations caused by the weather, the airport said.
Frustrated passengers vented their anger on social media after waiting several hours for information, complaining they had been told to return to the airport in the morning to collect their luggage.
One woman posted:
Airport officials said they would provide beds and blankets, although this was disputed by one passenger. Lucy Weyinmi tweeted:
"Definitely no blankets or food or any support for passengers who have been stuck here for 8 hours plus ..."
She added: "8 hours later, still at Stansted, waiting to get our luggage back so we can do this all again in 10 hours time ... Shocking lack of comms or support from airport or Ryanair ..."
A Stansted spokeswoman said on Wednesday: "Due to adverse weather conditions today Ryanair and easyJet cancelled a number of flights. There are
up to 300 passengers in the terminal waiting to rebook flights
. Passengers unable to return home are being looked after by Stansted airport with beds and blankets, and additional help for elderly passengers or those with young children. Free food and drinks have been provided to delayed passengers throughout the day.
"All passengers due to travel are advised to check the status of their flights with their airline before travelling to the airport."
On the roads, the RAC said it
expected to help more than 9,000 motorists by the end of Wednesday, with many callouts relating to damage from potholes caused by freezing weather and high water levels.
Police said drivers abandoned their vehicles on Honister Pass in the Lake District due to icy conditions.
On Wednesday morning, motorists on the A14 in the east Midlands were at a standstill for more than seven hours after multiple collisions in snow and ice. The road was reopened in both directions in the early afternoon, albeit with traffic still moving slowly in some places.
The RAC told drivers to check weather reports, leave extra time for journeys and pack winter travel kits before leaving home.
Pete Williams, a spokesman, said: "We are experiencing higher breakdown volumes than expected with callouts up by 15%-20% compared with seasonal norms.
"It's busiest in the Midlands, eastern England, the north, south-west, Kent and south London, with snow and ice making driving hazardous for many. We are also seeing a significant increase in vehicles with pothole-related damage - so punctures, wheel damage, steering and suspension problems.
"The toxic combination of high water levels, ice and snow is causing many road surfaces to crumble, causing potholes to open up."
Thousands of people were left without power on Wednesday morning as freezing temperatures and strong winds swept in. Western Power Distribution, which serves the Midlands, Wales and the south-west, said more than 14,000 properties were affected.
Simon Partridge, a Met Office meteorologist, said: "We have had some quickly changing weather overnight, with a band of heavy rain and hill snow that started in the south-west and is gradually moving north and eastwards. That's crossed Wales and is just lying over central southern England, and it has brought some snow with it."
Up to 7cm (2.8in) of snow fell over Exmoor, south Wales and the Cotswolds overnight, and there were also flurries in other areas.
"We have had a number of reports of areas affected; it shut part of the M5 just south of Bristol because lorries could not get uphill," Partridge said. "There [have] also been some power cuts reported and road traffic accidents as well, although these have been more to do with surface water."
Strong winds were recorded in parts of the south-west overnight, with gusts of up to 50mph across Cornwall.
The government's flood information service for England has nine warnings in force, where flooding is expected and immediate action required, and 94 alerts, where flooding is possible and people should be prepared.