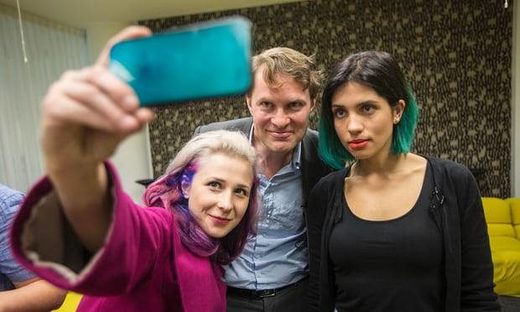 When you go promoting your latest book about evil Russia forcing Trump on America, it might be wise to check who is lining you up for interviews. Otherwise,
you could be asked uncomfortable questions about things like evidence
.
This is what the
Guardian
's former Moscow correspondent, Luke
Harding
, might tell fellow authors after a rather awkward interview with
Aaron Maté
of The Real News outlet.
Harding, who authored several bestselling books "exposing" Julian Assange, Edward Snowden, and Vladimir Putin
, has shown up on several media outlets in the past few weeks to speak about his latest work titled 'Collusion: Secret Meetings, Dirty Money, and How Russia Helped Donald Trump Win.'
But unlike
NPR
or
MSNBC
, The Real News interview
didn't go
as smoothly as Harding probably expected. In the end,
he called Maté a "collusion rejectionist" and signed off without saying goodbye
.
The problem for the
Guardian
journalist was that Maté proved to be skeptical about the narrative that Harding chose for his book, and
asked whether he could back it up with actual proof
. What he got in response was
Harding explaining "the context" - that Russia is basically evil historically and wants to harm the free world.
"I do understand your skepticism, but I think maybe you might just go to Moscow for a couple of weeks, talk to human rights people," Harding said at one point. "There's a fantastic organization there called Memorial. Meet Alexei Navalny who's the main kind of opposition candidate there who's an anti-corruption campaigner
whose brother has been jailed for his activities
and who's been disqualified by the Kremlin
from standing in the election. Just talk to people, ask them about Kremlin hacking, ask them about whether they think... I mean, talk to Russians on this."
Referring to Navalny as someone who can back the collusion narrative is actually quite ironic, even if Harding's assumption that he is a reliable expert on the issue is granted, because just as 'Collusion' was hitting the shelves in November,
Navalny's close aide, Leonid Volkov,
posted
a message on Facebook decrying this very narrative as

"more than just big disgrace, but collective insanity."
"It's real shame that no respectable figure in the [US] media won't stand up and say aloud: ENOUGH ALREADY," he said, arguing that peddlers of the collusion story have inflated Putin's perceived strength to disproportionate levels and undermined the cause of the Russian opposition.
Harding didn't even have to follow the Navalny crowd to know this, since
The New York Times
wrote
a story about it a month ago, citing Volkov and other Russian opposition figures.
The interview is packed with similar awkward moments
. Harding defended the salacious claims of the infamous Steele dossier about Trump and Russian prostitutes by citing KGB honeypot traps, and Trump saying nice things about Putin - but not about Theresa May or Angela Merkel. Trump also said nice things about Benjamin Netanyahu, but when Maté pointed that out, Harding said the collusion went "beyond... the Trump-Putin relationship."
At one point, Harding stated that Russia interfered with the French presidential election, only to be challenged by Maté, who said the
French cybersecurity body
found no evidence
of such meddling
. "I meant the French report was inconclusive, but you have to look at this kind of contextually," he replied when asked whether he was admitting to stating a falsehood.
Maté also cited
a part of the book which essentially equates the use of a smiley emoji with evidence of having ties with Russian intelligence
. The damning smiley came in an email sent to Harding by a person connected with lobbyist Paul Manafort (who was also Trump's Russia middle man, according to collusion pundits), which ended with: "Off to collect my paycheck at KGB :))" So how exactly was it damning? Because "Russians are big emoticon fans" and Harding noted that a "Russian diplomat in charge of political influence operations in London" described himself as "A brutal agent of the Putin dictatorship :)" on his Twitter account.
Maté asked why Harding saw this as a valid argument, and the response was "Really what you're doing is now rather a sort of silly exercise. You haven't read the book, but you're taking one small bit and jumping on that."
To quote Volkov, ENOUGH ALREADY!