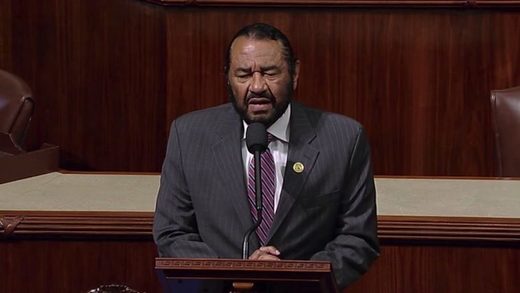 Congressman
Al Green
has vowed to force a House vote on
impeaching
US President
Donald Trump
sometime next week.
The vote would mark the first referendum on the president less than a year into his four-year term.
Mr Green, a Democrat representing parts of Houston, Texas, was the first member of Congress to call for impeachment on the floor of the House in May.
He said in his 30 November speech: "I refuse to stand idly by as a billionaire bigot does irreparable harm to my country. A billionaire bigot who tolerates the KKK, but won't tolerate Islam. A billionaire bigot who tolerates anti-Semitism, racism, sexism, ethnocentrism, xenophobia and homophobia."
Mr Green introduced a "privileged" bill on the House floor, meaning it requires action from other members within two legislative days.
Experts have said the bill is likely to fail given the Republican majority in the lower chamber, but there are also several Democrats who have said the chaos of a premature impeachment would signal to the country an unwillingness to pursue bipartisan solutions.
In October Mr Green said the articles of impeachment were, in his estimation, Mr Trump's "fuelling an alt-right hate machine," in reference to Mr Trump's comments about the violent protests in August in
Charlottesville
, Virginia.
Counter-protester Heather Heyer died after being hit by a car driven into the the midst of a white nationalist demonstration against the removal of Civil War General Robert E Lee's statue from a city park.
Mr Lee fought for the South to keep slavery and secede from the rest of the US in the country's bloodiest war.

Comment: Or so the story goes. But see:
Mr Trump blamed "both sides" for the violence.
The President has also repeatedly criticised
NFL players
, many African-American, for taking a knee during the customary pre-game singing of the national anthem to protest the spate police-involved shooting deaths of young black men.
Mr Green also cited "causing immediate injury to American society" in the impeachment articles.
He did not force a vote at the time to give people a chance to review the articles, but his recent announcement comes just a day after Mr Trump shared three anti-Muslim videos from a far-right group in the UK on his Twitter account.
The unverified videos shared through retweets came from Jayda Fransen, deputy leader of Britain First.
The retweets drew the ire of Prime Minister Theresa May and several other leaders.
Mr Green was not the only member of Congress to introduce impeachment articles - Marcia Fudge, Steve Cohen, Luis Gutierrez, John Yarmuth, and Adriano Espaillat are co-sponsors.
Democratic Representative Brad Sherman also introduced one in July that claimed Mr Trump obstructed justice in the ongoing Congressional and Department of Justice investigations into alleged collusion between the Trump campaign team and Russian officials.
Impeachment is actually a process in Congress and does not guarantee the President will be ousted from the White House. Passing the vote in the House triggers a public trial, of sorts, with the Senate.