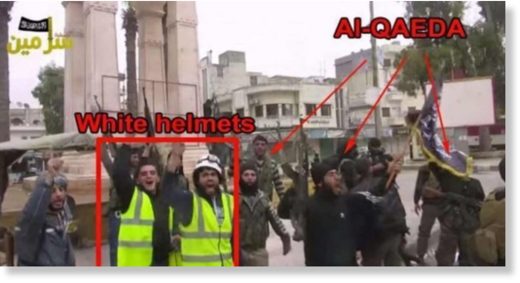 White Helmets were seen on video celebrating the massacre of Syrian civilians alongside Al-Qaeda, ironically in a film to portray them in a positive light.
The White Helmets, a Nobel Peace Prize-nominated group that has been painted as a selfless "humanitarian group" by the media, was once again caught on video helping the same terrorist group that is hurting the civilians they claim to protect. This time, however, the video was ironically put together by Now This as a pro-White Helmet piece.
The group, which was the subject of an Oscar-winning documentary in February, is
described
by IMDB, "a group of indomitable first responders [who] risk their lives to rescue victims from the rubble" in war-torn Syria "as daily airstrikes pound civilian targets."
However, a recent post from Vanessa Beeley, the associate editor of 21st Century Wire, painted the White Helmets in a very different light.
The video appears to show the famed White Helmets standing with Al-Qaeda and celebrating the massacre of Syrian civilians in Idlib. Ironically, Now This put out a
propaganda piece
attempting to paint those who show the misdeeds of the White Helmets as Russian agents and conspiracy theorists. However, the proof is in the pudding.
In the video, Now This shows a brief and out of context clip at the 3:18 mark. In the clip, White Helmets are seen celebrating with Al-Qaeda. To clarify the context, Beely tweeted still from the video she shot.
In the images, we can clearly see the "hero" White Helmets standing alongside terrorists and celebrating. But there is more. In the Now This video, Beeley points out a scene that appears to show an armed Al Nusra militant wiping the nose of a White Helmet.
Luckily, it appears that most people aren't buying the lies. The top comments on the Now This video show the reality.