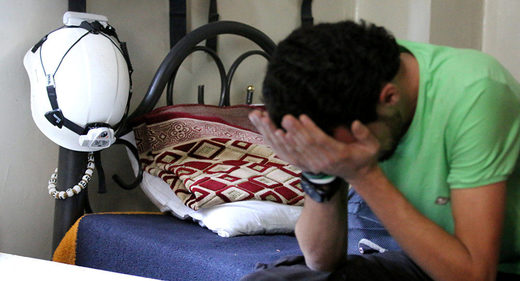 A volunteer with the Syrian Civil Defense, also known as the White Helmets, was caught on video dumping the mutilated bodies of Syrian Army troops.
The volunteer was summarily fired by the group after he was filmed participating in the dumping of dead pro-Syrian government fighters.
"Impartial and humanitarian White Helmets participating in the beheading and throwing of Syrian soldiers bodies at a dumpster in Daraa today," a Lebanese army soldier posted on Twitter with the
extremely graphic
video.
"On 20 June 2017, a volunteer of SCD in Daraa Governorate was witnessed participating in an activity that violated the organizational principles and vision of SCD," the group announced, adding that the man's "gross breach" of conduct led to his dismissal.
Skeptics of the White Helmets have long suspected the group to be a terrorist front group, even as Western icons like the British rock band Coldplay have endorsed the group for a Nobel Peace Prize. A 2016 Netflix documentary about the group won an Academy Award.
"White Helmets are Al Qaeda members," Syrian President Bashar al-Assad told
RT
.
Russian Foreign Ministry spokeswoman Maria Zakharova recently called out CNN for its "erroneous" story on Omran Daqneesh, a Syrian boy who was depicted by Western media as being rescued by the Helmets in footage from August 2016. Forces hostile to Damascus implicated Russian airstrikes as culpable for the wreckage of the rebel-held Karm al-Qaterji neighborhood where the boy was found,
Sputnik
reported
.
But the boy's father, Mohammad Kheir Daqneesh, revealed to
RT
in a two-part interview published in early June that White Helmets volunteers manipulated the boy into being filmed before providing assistance the five-year-old could have died without. Daqneesh added that he was threatened by White Helmets when the group caught on to the fact that Daqneesh might want to tell the truth about his son's story.
The boy has been widely portrayed as the "symbol of Aleppo suffering," according to
Sputnik
.
RT
and
Sputnik
Editor-in-Chief Margarita Simonyan said
RT
had ripped the cover off of one of the biggest
fake stories
to come out of Syria while CNN spread the group's lies.
"This is a well-known practice of White Helmets and that and similar organizations that constantly use fakes to boost its reputation," political analyst Sergey Zhuravsky told
Radio Sputnik
. "Many people understand that this is an organization that works for certain media outlets. Some [media outlets] speak of the 'bloody victims of the Syrian troops,' others provide such 'confirmations.'
So the White Helmets do what they're paid for, and CNN gets ratings and a grateful audience, which is horrified by the victims of war in Syria," Zhuravsky noted.