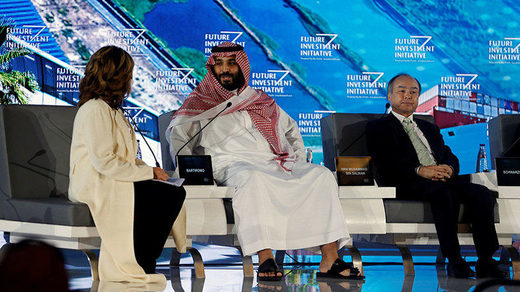 Something is afoot in Saudi Arabia. A century of close alliance with the Americans and the British may be coming to an end. A timeline of major relevant events involving the Arabian kingdom in the last 6 months suggests the House of Saud is undergoing a 'quiet (for now) revolution'.
May 20
: Despite his extremely
negative opinion
of Saudi Arabia, declared repeatedly while campaigning, this is the place Trump decides to make his first foreign visit to as president. He 'makes deals', lectures about the evils of Iran, and does the sword dance. About two weeks later:
June 5
: Saudi Arabia severs ties with Qatar, accuses them of supporting terrorism, gives a list of demands and an ultimatum. (Near the end of October, Bannon
credited
Trump's influence not only with the blockade against Qatar but also the recent changes we're seeing within the Kingdom itself. Others think Trump
prevented
a war between Saudi Arabia and Qatar.) About two weeks after that:
June 21
: In a "bloodless coup" of sorts, King Salman makes his son Prince Mohammed bin Salman (MBS) heir to the throne, replacing Prince Mohammed bin Nayef and purging the Interior Ministry of Nayef supporters. Nayef was a veteran security chief and was highly regarded by the Washington/CIA crowd. The CIA reportedly
weren't very pleased
by this turn of events.
September 26
: King Salman issues a decree ordering that women (finally) be permitted to drive in Saudi Arabia.
October 5
: King Salman makes an historic visit to Moscow (the first of any Saudi king) and signs multiple deals with Russia. Even mainstream sources call it a major geopolitical shift. Pepe Escobar
reckons
Saudi Arabia has embraced Russia as a strategic ally.
October
17: King Salman issues a decree to establish the "King Salman Complex" to counter extremist interpretations of Islam. The country also announces that women will (finally) be able to
attend
sports stadiums. (See also:
How the Saudi Crown Prince is 'fundamentally changing' kingdom
)
October 21
: Secretary of State Tillerson visits Saudi Arabia, from where he urged Iraq to send "Iranian militias" home. (Iraq was confused: there are no Iranian militias in Iraq.)
October 24
: Crown Prince Mohammed bin Salman vows to "restore moderate Islam" in his country, vowing to "destroy" "destructive ideas" and extremism.
October 28
: Jared Kushner returns from a secretive, unannounced trip to Saudi Arabia (joined by deputy national security adviser Dina Powell and Middle East envoy Jason Greenblatt). No details were released, but "a friend of Kushner's" said it had to do with the Israel-Palestine peace process. Kushner traveled separately from Treasury Secretary Mnuchin, who visited Riyadh around the same time to discuss shutting down terrorist funding.
November 4
: King Salman issues a decree to establish an anti-corruption committee with sweeping powers. Lebanese PM (and dual Saudi citizen) Saad Hariri
resigns
while in Saudi Arabia, on Saudi Arabian TV, reading a
Saudi-produced
script. The newly created committee gets to work, immediately targeting 11 princes and 4 ministers, including Prince Mutaib bin Abdullah, commander of the National Guard. Also arrested: billionaire Waleed "Dopey Prince" bin Talal, who had deep ties to Obama and Clinton.
November 5
: The Houthis fire a ballistic missile toward Riyadh's international airport, which the Saudis intercept. They call it an
act of war
... by Iran - and close all
border crossings
with Yemen. A Saudi prince (Mansour bin Muqrin) is
killed
along with several other officials in a helicopter crash near the border with Yemen.
November 6
: Another Saudi Prince (Abdul Aziz) is
killed
in a gunfight with Saudi security forces attempting to arrest him. Aziz had business ties with Hariri. The Saudis also call for the arrest of two leaders of their proxy "Syrian opposition", for money-laundering and smuggling.
Some argue that all this is just a Crown Prince MBS
power-grab
. It certainly is at least that: he now controls the Armed Forces, the Interior Ministry, and the National Guard, and has removed some top-level rivals. But others argue that he is also making real efforts at
reform
. Maybe both are true. As Adam Garrie put it in The
Duran
:
While the MBS purges are self-serving first and foremost, they are also part of his desired pivot away from over-dependency on the US. By publicly attacking its former political proxies for Syria, Riyadh is clearly showing that its internal matters now take precedent over directly meddling in the wider Arab world.
A pivot "away" from something is also a pivot "towards" something else. Towards where or what? His anti-Iranian stance notwithstanding,
towards Russia
and China, perhaps.
But perhaps that's reading too far ahead. For now, this reads like one more country learning to stand on its own two feet by exercising its national sovereignty in the long-term interest of its people rather than the short-term interest of globalist capital.
See also:
And this one too:
Former govt intel analyst confirms: ISIS was state-sponsored by US allies until at least 2016