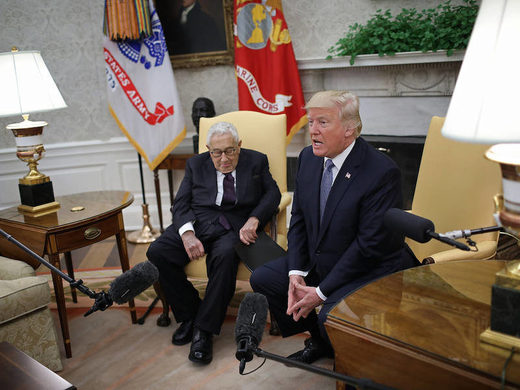 Henry Kissinger, a former secretary of state and a national security adviser under Presidents Nixon and Ford, met with President Trump Tuesday in the Oval Office, the second time the two have publicly convened since the inauguration.
Trump told reporters that Kissinger is a "man of immense talent, experience and knowledge." He also reiterated that he has confidence in current Secretary of State Rex Tillerson
, who called the president a "moron," according to a recent NBC News report. Trump said in a Forbes interview that he could beat Tillerson on an IQ test, but he refused to answer any questions about it when asked in the Oval Office.
Asked if he undercut Tillerson in a recent tweet when the president said the secretary's diplomatic efforts in North Korea were useless, Trump said,
"I did not undercut anybody. I don't believe in undercutting anybody."
"Henry Kissinger has been a friend of mine," Trump said. "I've liked him. I've respected him. But we've been friends for a long time, long before my emergence into the world of politics, which has not been too long."
Hillary Clinton, too, claimed Kissinger as a friend during the campaign.
"Mr. President, I didn't expect this opportunity," said Kissinger. "It's always a great honor to be in this office, and
I'm here at a moment when the opportunity to build a constructive, peaceful world order is very great
."
Trump said that he "inherited a mess" in the Middle East, but he's making a lot of progress fixing it.
The president also took the opportunity to discuss some of his policy priorities. "People of this country want tax cuts," he said. "They want lower taxes."
When a reporter asked about Trump's ongoing feud with Republican Sen. Bob Corker of Tennessee and whether it would affect the party's tax reform effort, he said, "I don't think so. I don't think so at all. "
He continued: "I think we're well on our way. The people of this country want tax cuts, they want lower taxes. We're the highest taxed nation in the world." (Trump's repeated assertion that the United States is the
highest-taxed nation
is false.)
Trump also repudiated Corker's warning that the president could bring the country to World War III. "We were on the wrong path before," he said.
"All you have to do is have to take a look," he added. "If you look over the last 25 years, through numerous administrations, we were on the path to a very big problem, a problem like this world has never seen.
We're on the right path right now, believe me
."
The administration is also working on an executive order on health care that would, in part, make it easier for people to sell insurance across state lines, Trump said.
"They'll be able to buy, they'll be able to cross state lines, and they will get great, competitive health care, and it will cost the United States nothing," Trump said. "Take care of a big percentage of the people we're talking about, too. With Congress the way it is, I decided to take it upon myself, so we'll be announcing that soon as far as the signing is concerned. But it's largely worked out."