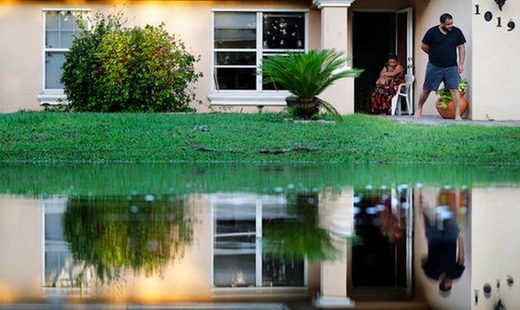 In a state built on air conditioning, millions of Florida residents now want to know: When will the power come back on?
Hurricane Irma's march across Florida and the Southeast triggered one of the bigger blackouts in U.S. history, plunging as many as 13 million people into the dark as the storm dragged down power lines and blew out transformers. Gone were the climate-controlled bubbles people relied on in Florida's sweltering heat and humidity.
Those who evacuated are returning to homes without electricity. T
hey could face days or even weeks with little to ease the late-summer stickiness.
By Wednesday afternoon, state emergency management officials estimate that one third - or 6.4 million - residents remained without power in the Sunshine state.
"Power, power, power," Florida Gov. Rick Scott said recently. "The biggest thing we've got to do for people is get their power back."
The Irma blackout is
still much smaller than a 2003 outage that put 50 million people in the dark. More than 50,000 utility workers - some from as far away as Canada and California - are responding to the crisis
, according to the association of the nation's investor-owned utilities.
"The industry's Irma response is one of the largest and most complex power restoration efforts in U.S. history," said Tom Kuhn of the Edison Electric Institute, a lobbying group that represents all U.S. investor-owned electric companies.
"Given the size and strength, infrastructure systems will need to be rebuilt completely in some parts of Florida."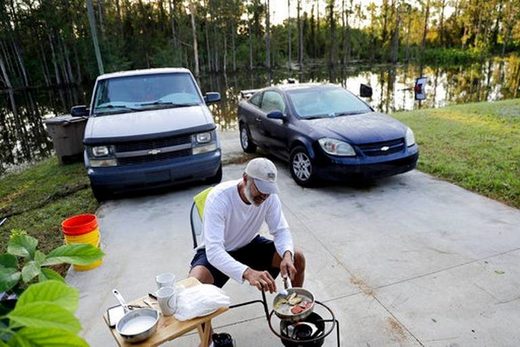 The state's largest utility, Florida Power & Light, said Irma caused the most widespread damage in company history, affecting all 35 counties in its territory - most of the state's Atlantic coast and the Gulf Coast south of Tampa.
The company on Tuesday said it expected to have the lights back on by the end of the weekend for the Atlantic coast. Customers in the hard-hit neighborhoods in southwest Florida, where damage was much more extensive, were expected to get power restored within 10 days.
While acknowledging the public's frustration, utility officials said they are getting power back on faster than they did after Hurricane Wilma hit the state 12 years ago.
The company said it had already restored service to nearly 1.8 million customers.
Any disaster that wipes out electrical service hits especially hard in the South, where tens of millions of Americans rely on the cocoon of comfort provided by air conditioning. Without it, many cities could barely exist, let alone prosper.
There were signs on social media that some people were growing angry and tired of waiting. Others steeled themselves for an extended period without electricity.
Standing in front of a produce cooler at a reopened Publix grocery store in Naples, Missy Sieber said the worst thing about not having electricity is not having air conditioning.
"It's miserably hot," she said. "I don't mind standing in line here."
There's no immediate cool-off in sight. The forecast for the coming week in Naples and Miami, for instance, calls for highs in the upper 80s (lower 30s Celsius) and lows barely falling below 80 degrees (27 degrees Celsius). Humidity will hover above 70 percent.