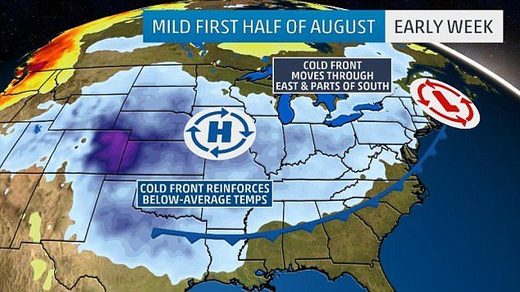 Cooler temperatures are predicted to span much of the eastern part of the United States throughout the month of August.
The first of several spells of below-average temperatures saw shorts exchanged for sweaters across the east of the country over the weekend, with lows of 60F in Chicago and Green Bay on Friday.
Those overnight lows are expected to persist in lands east of the Rockies for the next two weeks, with daytime highs ranging from the upper 70s to the low 80s, according to
Weather.com
.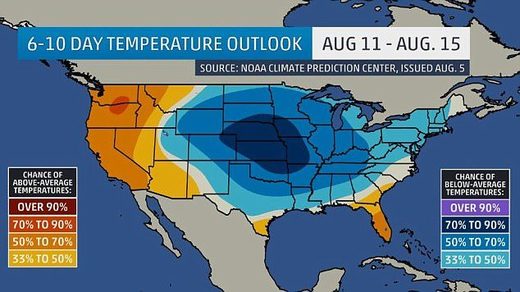 Experts say a southward dip in the jet stream is causing the cooling effect.
This pattern will continue into the second week of August with below-average temperatures affecting much of the East Coast, Midwest, and some of the South.
The Weather Channel reports that
Sunday morning saw record breaking lows in Missouri, Kentucky, Tennessee and Indiana.
Another cold front is also expected to bring thunderstorms and showers through the central and eastern states early this week.
New York City
will be hit with showers and cloudy skies Monday morning, with temperatures staying in the high 60s.
Between spells of cold weather temperatures could return to somewhere approaching seasonal norms, but the
trend is for weather to be predominantly colder than usual,
according to the
Washington Post
.
This is expected to persist until mid-August, which could then see a reversal of fortunes and warmer-than-average temperatures until September.