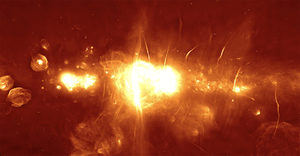 Galactic Center: South Africa's MeerKAT Radio Telescope captured this panorama of the center of the Milky Way. Area approx. 1,000 light-years by 500 light-years
Who controls the past controls the future. Who controls the present controls the past.
- George Orwell
Recent Comments
Your meaning for forgiveness- its built in.
---
As bred part spaniard I am shocked mostly, but as a farm boy dated to pocohontas I am bleeding. As equal Scot/Brit tAll of my family suffered and...
---
Democratic ppl are the new way of self efficient work😴😃 you bet I have a set of the real presidential democry baby vaccines and all burping orders...
---
Democrat it is the automatic machine to future life and beyond just thought.. it is answers yes indeed.
---
To think- Trump has to watch elected offials who have babysat slick dumbasses as a career. And holding you hostage by russian wealth. You sorry...