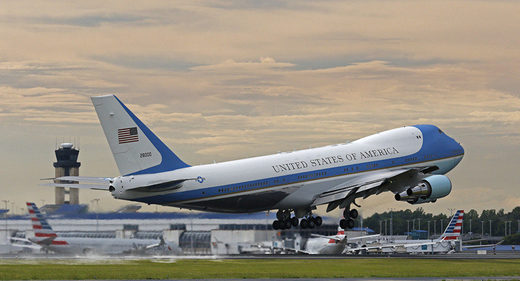 The US Air Force is buying two 747 aircraft left out in the cold by a bankrupt Russian firm for President Donald Trump's personal ride: Air Force One.
The move reduces cost for the presidential aircraft derided by Trump. "The plane is totally out of control, it's going to be over $4 billion" Trump
said
in December. "I think it's ridiculous," he added.
The jets were ordered from Boeing by Transaero in 2013 but were never delivered. Boeing was going to make four jets for the Russian airliner, but stopped when the company ended up going under in 2015. The USAF agreed to terms to buy the Russian planes for just $390 million.
The list price of the jets was $1.5 billion, according to Flight Global. The sticker price for each 747-8 runs about $386 million, meaning that if USAF awards the $390 million contract for the two jets, the White House will be paying about 50 percent of the jets' retail value.
"We're working through the final stages of coordination to purchase two commercial 747-8 aircraft," a USAF spokeswoman told Defense One Tuesday, adding that the contract award would officially be announced "soon."
The Chicago-headquartered aerospace and defense manufacturing giant confirmed the news. "We're still working toward a deal to provide two 747-8s to the Air Force," Boeing spokeswoman Caroline Hutcheson said.
The pair of aircraft are currently stored at a boneyard in the Mojave Desert, Defense One noted. Hundreds of old aircraft "sit with their engines shrinkwrapped in anticipation of one day returning to flight" in aircraft limbo at the site, the news outlet added.
Approximately $1.65 billion has been carved out of the federal budget for Air Force One planes.