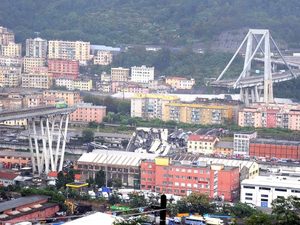 14 August 2018: Morandi Bridge in Genoa, Italy, collapses during a storm, killing 35 people
The eye sees only what the mind is prepared to comprehend.
- Robertson Davies
Recent Comments
As has been stated elsewhere, Facebook is abandoning the world of free speech platforming and entering the publishing world, without considering...
---
I believe calling the FBI was her biggest error. I believe they are the killers, and the clean up people. Then claim that it's suicide, and no...
---
How'd I get here in Bizarro world? Why do we allow them to stay in charge, and why do we continue with this illusion that governments are the way...
---
The very same "Fart Barf and Itch" that could not find someone wanting free stuff at a Democratic Socialist rally? Color me unimpressed....
---
From all Ive read about this bloodsucking monster, I think it would be appropriate to rename it "H.Omarosa"