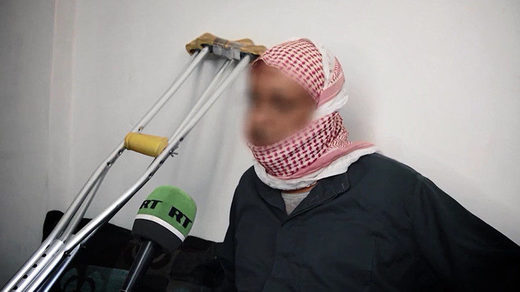 A Syrian man who claims his daughter died in a US-led airstrike while fleeing the Islamic State stronghold of Raqqa, Syria, told RT about the horrifying events of his escape and claims the US-led coalition has an alarming tendency to target civilians.
"Coalition planes struck the district of Dariya, I was with my daughter at the time, and just like that, she perished in the blast, I lost my leg. More often than not, US planes hit civilians, not Islamic State [IS, formerly ISIS/ISIL]," Abu Abdullah told RT Arabic.
The man's face has been blurred on the footage for security reasons.
The locations targeted by the bombings are mostly civilian too, so the locals basically have nowhere to hide.
"It's mostly civilians who die in the Dariya district: the agricultural university, the Al-Hal market, hospitals - all these buildings suffer from coalition bombings. No place is safe," he added.
He also gave some details about his escape from the war-torn Raqqa, in particular about illegal routes out of the city.
"If you want to leave, you'll have to cross the Kurdish areas and leave via the same way smugglers go. There's just no other way out. The smuggler takes 50 to 70,000 Syrian pounds (about $240-$330) to guide you for 30 minutes or an hour. A smuggler's daily revenue may reach $18,000, but they have arrangements from all the parties, on which it depends for you to make it safely," the man noted.
About a week ago, the UN war crimes commission released some worrying numbers: at least 300 civilians have been killed in Raqqa since March.
A US commissioner on the independent panel, Karen Abuzayd, told Reuters that they had "documented the deaths caused by the coalition airstrikes only" and discovered that there were about 300 civilians killed, with 200 of them in one village, al-Mansoura.
Apart from the alarmingly high number of deaths, 160,000 people have been internally displaced, fleeing Raqqa in fear, also according to the UN figures.
Raqqa is the main hub for IS and its self-proclaimed capital in Syria, with the terrorists taking control of the city in mid-January 2014.