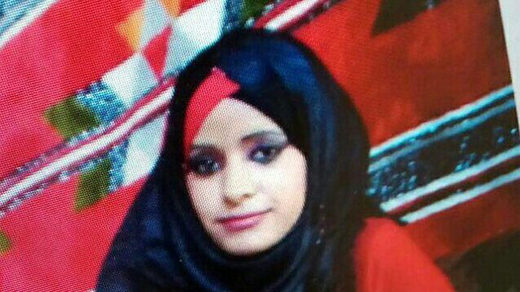 Three men have been charged with kidnapping and burning their relative, a 19-year-old divorced woman, in a Bedouin town in southern Israel, according to state prosecutors. The accused reportedly believed the woman would shame the family by dating other men.
Hanan al-Bahiri went missing on May 3 after speaking on the phone to her mother on the way home in the town of Lakiya. Her mother, Dalal al-Bahiri, contacted the police, prompting a search. The woman indicated her suspicion of Hanan's uncle and two other relatives, Haaretz
reports
.
The victim's uncle, Younis al-Bahiri, 45, his son Muhammad, 25, along with Sager al-Bahiri, 25, were among six family members who were detained three weeks after Hanan al-Bahiri's disappearance.
"The defendants kidnapped the deceased in order to murder her and caused the death of the deceased with premeditation, after they decided to kill her and killed her in cold blood, without any provocation preceding the act," the Southern District's prosecution said in its indictment, as quoted by Haaretz.
Hanan al-Bahiri was reportedly kidnapped and questioned on her divorce. The suspects then allegedly broke her neck and burned her body, burying the remains in Northern Negev.
Muhammed al-Bahiri helped police to locate the young woman's remains, as the three allegedly buried the body near Younis al-Bahiri's home,
according
to the Jerusalem Post.
The men are also said to have destroyed the victim's sim card and broken her phone so it wouldn't be traced.
Shortly before her death, Hanan al-Bahiri had divorced a disabled man whom she had married at the arrangement of one of the accused uncles, Haaretz reports, citing the woman's mother.
Hanan also had a phone conversation with her uncle, who told her to "sit at home with [her] mother, rot and shut up," as the indictment read. "If I find out you're leaving the house, you know what will happen to you," the man threatened, according to Israeli media.
"We are still awaiting the evidence to respond to the allegations," Younis al-Bahiri's attorney, Rami Shelby, told the Jerusalem Post, adding his defendant denied even being "present for the incident." Two others denied the statements they made during the investigation as well.
The men allegedly feared Hanan would bring "dishonor" on their family, as she was planning to find a job to pay off the debt after her uncle returned her dowry following the divorce.
Hanan's case comes amid protests against gender violence in several Israeli cities, including Tel Aviv, Haifa, and Jerusalem, on Saturday.
Nearly 200 demonstrators gathered in Tel Aviv to call on the government to respond to the high rates of violence against women. Last week, four murders of women were reported, with relatives suspected.