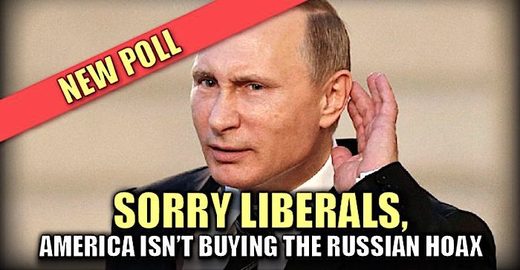 Ordinary Americans are not buying the "Russian meddling" nonsense, with 57 percent agreeing that "the media has prematurely declared President Trump and his allies guilty of collusion with Russia" despite a lack of evidence.
Only 39 percent disagreed.
Some 83 percent of Republicans believed the media had displayed bias, while only 32 percent of Democrats believed the same. Some 62 percent of independents saw media bias in the coverage of the Russia investigation.
Almost two-thirds of the youngest segment of voters, in the 18 to 24 year-old age group, said the media had essentially treated Trump and his campaign officials as guilty without providing evidence of Russian influence.
Most Americans do not believe Russia influenced the outcome of the election, despite the mainstream media's saturation coverage, with some 52 percent of respondents dismissing the idea.
Almost half of Americans called the Russia investigation a full-on "witch hunt". The poll also found 65 percent of Americans saying it was "premature" to talk about impeachment of president Trump while only 32 percent said it was "appropriate". The poll was taken May 30 to June 6, before former FBI Director James Comey's testimony which largely imploded the "Russian conspiracy" narrative.
Trump's former campaign manager Corey Lewandowski told the
TODAY
show on Friday
"What we've seen from Jim Comey is his goal is to manipulate the media, manipulate the press," Lewandowski said. "He is part of the deep state. He's everything that's wrong in Washington."
Comment:
Fired former Trump campaign manager,
Corey Lewandowski
is known for his 'strong personality' and tepid ability to work cohesively as a team member. He was considered divisive during the campaign. His rhetoric seems to match.
Trump's critics now say he is using a bot-operation for political purposes, because of the proximity of IBM computer scientist Robert Mercer to the Trump camp.
Mercer, 70, worked at IBM, where his name appeared on several patents and in many publications and studies about "Brown clustering," used to create IBM's Watson Artificial Intelligence systems.
Mercer has invested at least $5 million in a firm called Cambridge Analytica, a small tech operation "that mines online data to reach and influence potential voters" and "uses secret psychological methods to pinpoint which messages are the most persuasive to individual online viewers,"
The New Yorker
magazine reported earlier this year.
The technology has already been employed in campaigns for candidates whom Mercer supported, including Trump's, and could easily be used in future efforts to target voters on social media, critics say.