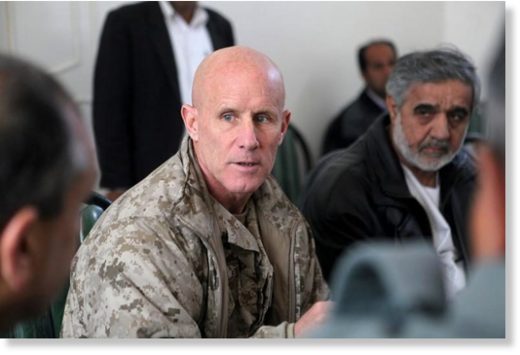 As
previewed yesterday
, of the three men mentioned as Michael Flynn's national security advisor replacements, one stood out: the former deputy commander of the US Central Command and current CEO for Lockheed Martin in the UAE, Robert Harward. Moments ago, Reuters confirmed that as expected, Trump has offered the National Security Advisor job to Robert Harward.
As
Reuters adds
, the Trump administration has offered the job of White House national security adviser, vacated by former U.S. intelligence official Michael Flynn, to Vice Admiral Robert Harward, said two U.S. officials familiar with the matter on Wednesday. It was not immediately clear if Harward, a former deputy commander of U.S. Central Command who has Navy SEAL combat experience, had accepted the offer, according to sources.
* * *
Who is Harward? For those who missed it,
here is our profile of the new NSC head from yesterday.
Meet The Man Most Likely To Replace Mike Flynn
The person who has emerged as the leading candidate to replace Michael Flynn, according to both
Reuters
and
WaPo
, is a senior naval officer who served under President Donald Trump's Defense Secretary James Mattis: Vice Admiral Robert Harward, who was deputy commander of U.S. Central Command under Mattis, will likely replace Flynn, officials quoted by Reuters said.
Harward served under Mattis while he was at U.S. Central Command and remains an ally and friend of the defense secretary. He is a Rhode Island native who went to school in Tehran before the shah was toppled in 1979. He went on to the U.S. Naval Academy and a long career in the Navy, where he worked on SEAL teams and was a commander in Afghanistan and Iraq.
Harward did a tour on the National Security Council under Republican President George W. Bush working on counterterrorism.
"If the president goes in his direction, there would be very little opposition," said the official. "He's very highly regarded, and doesn't have the baggage that Petraeus has."
That said, since Harward is the
Chief Executive Officer for Lockheed Martin in the UAE
- in which this role "he is responsible for all aspects of the company's business interests in the UAE, including strategy, operations, growth and execution of Lockheed Martin programs" -
the Vice Admiral may be "incentivized" to perpetuate, if not accelerate, the various proxy wars in the region.
In any case, as the
WaPo
adds, on Monday night, Tommy Vietor, a former spokesman for President Barack Obama's National Security Council, wrote on Twitter that Harward is a "very impressive (and nice) guy."
When asked if Harward was certain to be picked, the officials offered caution and said the discussions were ongoing. But they acknowledged that a consensus for Harward was evident, with Keith Kellogg, a decorated retired Army lieutenant general, and David H. Petraeus, a former CIA director and retired general, still on the list. Kellogg was named acting national security adviser on Monday after Trump accepted Flynn's resignation letter.