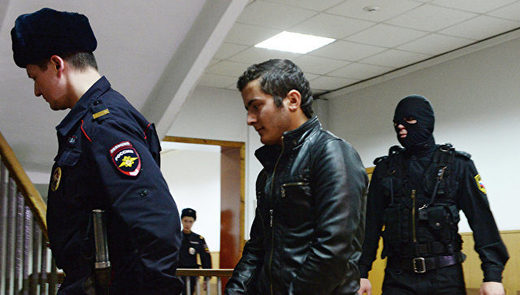 In the city of Bakhchisaray in Crimea, Russian FSB officers liquidated a cell of the terrorist organization Hizb ut-Tahrir during a special operation on January 26th. The day before, on January 25th, the FSB, together with the law enforcement authorities of Tatarstan, arrested a group of Islamists from Hizb ut-Tahrir who were preparing a terrorist attack on the aircraft factory of Kazan. Last year, the terrorists' funding channels in the republic were uncovered and 13 criminal cases were opened against 30 members of Hizb ut-Tahrir, 26 of whom are being prosecuted as participants in terrorist activities in Syria.
The terrorist grouping known as
the Islamic State is trying to unleash a civil war in our country by using the potential of ideologically close religious and extremist organizations, including Hizb ut-Tahrir.
In December 2016, during large-scale raids in Moscow and its suburbs by the FSB, the Ministry of Internal Affairs, and Russia's National Guard, more than ten extremists were neutralized.
In November in Saint Petersburg, several members of the city cell of the same terrorist organization were neutralized after planning to repeat the 2015 Paris terror attacks (with explosions and automatic gunfire) in Russia's northern capital.
In September, FSB officers arrested 135 foreigners in Moscow and the Moscow region who were preparing terrorist attacks in Ufa. In August in the Tyumen, Chelyabinsk, and Sverdlovsk regions, as a result of a large-scale operation at 16 addresses at once, more than 96 recruiters and propagandists of ISIS - natives of Uzbekistan, Tajikistan, and Kyrgyzstan but all Russian citizens - were arrested.
In July in Tver, ISIS recruiters from Central Asia were arrested. The visitors were looking for "specialists" to be sent to the war in Syria and collected information on Russian airports.
In May, the FSB thwarted a terrorist attack on the Immortal Regiment march in Moscow. 12 natives of the Central Asian republics were arrested who had received instructions from Turkey and Syria.
The invisible war continues.
What is the so-called Party of Islamic Liberation (Hizb ut-Tahrir al-Islam) striving for in Russia? Regular reports from the FSB's special operations against this terrorist organization allow the conclusion to be drawn that
the names, structures, and potential of this religious-extremist organization ideologically close to the Islamic State terrorist grouping is being used to unleash a civil war in Russia.
ISIS and Hizb ut-Tahrir have a common goal: the elimination of non-Muslim governments and the establishment of Islamic rule on a global scale.
As a tool of ISIS, Hizb ut-Tahrir's greatest impact is in the Volga region, Western Siberia, and the Northern Caucasus. Unlike other extremist organizations oriented towards traditionally Muslim regions, Hizb ut-Tahrir creates its cells in non-Muslim regions and brings in ethnically non-Muslims into its ranks.
Russia's FSB has a lot of work to do with these "members" in Crimea.
The situation is complicated due to the fact that Hizb ut-Tahrir's peninsular cell worked practically legally during the Ukrainian period.
In Bakhchisaray in the spring of 2016, four extremists and just as many "members" were arrested in Yalta and Alushta. In October, the FSB and Ministry of Internal Affairs held yet another special operation in Crimea.
ISIS' social base in Russia is made up of indigenous peoples professing Islam, migrant workers, and recruiters and propagandists for the "Great Jamaat" (the envisioned state in which Muslims will be protected from injustice and violence and live according to religious laws) answering to the command of foreign advisors.
The ideology and the structural shell of Hizb ut-Tahrir are used to mitigate the marred image of ISIS associated with mass executions. Extremists engage in recruiting supporters for armed struggle and raising money to support Middle Eastern militants.
It all starts with books. The terrorist organization boasts strong propagandistic resources. In the books distributed by Islamists, for example, it is asserted that "states like Russia are considered as potentially in a state of war against us."
In the Central Asian republics of the former USSR, Islam does not have profound roots. A "homemade Islam" has formed among the indigenous peoples (Kazakhs, Turkmen, Uzbeks, Kyrgyz, Tajiks) which differs from canonic Islamic doctrines. Yet amidst the military operations of a number of countries in Syria, insufficiently educated Muslim youth have come under the influence of the ideas of Hizb ut-Tahrir and many ultimately end up in the ranks of ISIS.
The recent Syrian experience shows how terrorists use the "law of communicating vessels," franchising, and rebranding skillfully. Hizb ut-Tahrir itself is a Sunni religious and political organization that was established in 1953 in Jerusalem. It is believed that the organization's headquarters are in Beirut, Lebanon. In addition, several control centers of the organization exist in more than 40 countries.
The party is controlled by a central committee. The national-level organizations are led by a group of 12 people who are in charge of local party units, usually cells of five members. The women's cells are separate from the men's.
With all of their religious and ideological ploys, the members of Hizb ut-Tahrir promote the overthrow of secular governments and the establishment in their place of a single state, an Islamic Caliphate.
In the US and Western Europe, the group operates freely. But in Russia and the CIS countries, it is recognized as a terrorist operation which has been banned on Russian territory since 2003.
The invisible war continues.