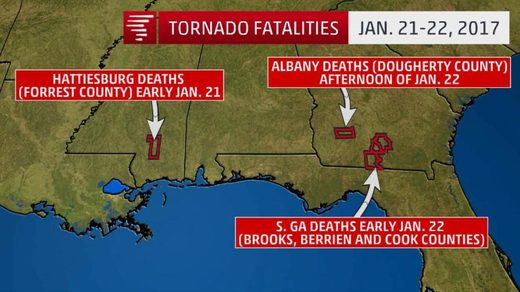 Following last weekend's severe weather outbreak,
this month is already the deadliest for tornadoes in any January since 1969. The number of tornado-related deaths in those two days also exceeds what was seen in all of 2016.
A preliminary 19 people were killed by tornadoes Saturday and Sunday - 15 in south Georgia and four in Hattiesburg, Mississippi. Those figures could change as more information is collected by authorities.
No other January has had more tornado deaths since 1969, when 32 were killed,
according to the Storm Prediction Center
. More recently, 18 fatalities were caused by tornadoes in January 1999, which 2017 now exceeded.
There was an additional storm death near Lake City, Florida, on Sunday, which is currently not blamed on a tornado, but rather strong thunderstorm winds downing a tree on a house.
2017 Already Deadlier Than Last Year
In just two days this month, the death toll from tornadoes in 2017 topped what was seen all of last year.
2016 was a below-average year for both tornadoes and tornado deaths. A total of 17 people were killed by tornadoes during the entire calendar year,
the SPC says
. That was the second-fewest tornado deaths in a year on record
dating to 1940
.
For comparison, an average of 70 tornado-related deaths have occurred annually from 1986 to 2015,
according to data from NOAA
.
The tornadoes that occurred over the weekend were right in the southern U.S. corridor where they are most likely during January when atmospheric conditions come together.
Those atmospheric components included powerful upper-level and surface low-pressure systems sweeping in across the region from the west. This helped to the pull warm, moist air needed for the generation of thunderstorms into the Deep South.
Many of the tornado deaths Saturday and Sunday occurred in a situation meteorologists fear most - tornadoes that develop overnight or early in the morning when most are asleep. All four deaths in Hattiesburg and 12 of the 15 deaths in southern Georgia happened when tornadoes struck in the early-morning hours well before sunrise.
When there is a severe weather threat, always be sure to have a way to get warning information to alert you of any danger headed your way. The link below will provide you with resources on how to protect yourself from dangerous overnight severe weather episodes.