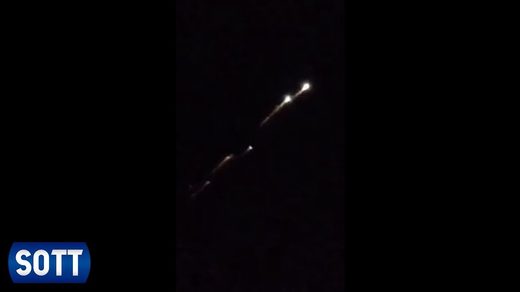 As we enter a new and uncertain geopolitical climate with the inauguration of US President Donald Trump, so we also appear to be entering a new and uncertain natural climate.
The relentless global escalation of extreme weather, geological upheaval, and cosmic bombardment continued last month, ending a year the authorities claim was (again) "
the warmest ever - and it's humans' fault
."
Still no explanation from them as to how 'man-made CO
2
' is responsible for - among other new or increased natural phenomena - all the sinkholes opening up and killing people; the meteor fireballs raining out of the sky; redirecting the course of high-altitude jet streams; and increasing the frequency of earthquakes two or three-fold.
But pay no attention to those details - they're probably just signs that we're
heading
into
another
ice age
.
Highlights in our Earth Changes Summary video for December 2016 include:
Persistent, heavy fog across the world last month - northern Europe, India, China and the Persian Gulf
Return of the 'polar vortex' to both North America and Russia, bringing record-breaking snow and cold temperatures
Snow in the Sahara Desert, Arabian Desert, and Syria
Thundersnow, snow-nadoes, 'fog walls', 'fog domes', 'spinning ice disks', and other bizarre cold weather-related phenomena!
Severe flash-flooding (and a tornado) across southern 'sunny' Spain
Outbreak of forest fires in the Swiss Alps... in winter!?
At least a half dozen spectacular meteor fireball events in North and South America, Europe, and Central Asia
A string of powerful earthquakes and volcanic eruptions around the Pacific Ring of Fire
Widespread flooding in Southeast Asia during its 'dry season'
Record-breaking rainfall in Australia's desert regions
Watch it on Sott.net's
Vimeo channel
:
Music used: 'Escape from the Temple' by Per Kiilstofte. Licensed under Creative Commons Attribution 4.0 International
To understand what's going on, check out our book explaining how all these events are part of a natural climate shift, and why it's taking place now:
Earth Changes and the Human-Cosmic Connection
.
Check out previous installments in this series - now translated into multiple languages - and more videos from SOTT Media
here
,
here
, or
here
.
You can help us chronicle the signs by sending your video suggestions to sott@sott.net