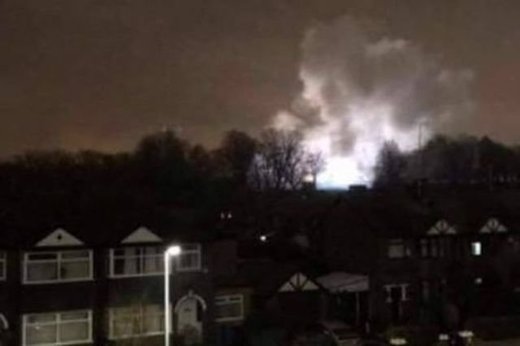 It was heard across Salford, Trafford and south Manchester - and speculation is rife as to the cause
The cause of a mysterious loud bang heard across Greater Manchester remains unknown. Residents in Trafford , Salford , Urmston , Chorlton and Sale reported hearing the noise at about 11pm on Sunday evening.
An image shared shortly afterwards on social media claimed show a large plume of smoke coming from Buile Hill Park, in Salford, which is thought by some to be linked to the sound.
Greater Manchester Police
and the fire service were called to the scene, but found nothing when they arrived. A GMP spokesman said: "We were called at about 11.15pm last night to the
Seedley
area of Salford, to reports of a loud bang.
"We found nothing untoward to explain. We have gone along locally to make enquiries and not come across anything to explain it."
Greater Manchester Fire Service
said they received two calls from members of the public in Salford regarding a loud bang. But following investigations, they could not find anything that would have been the source of the noise and advised callers it was 'nothing to worry about'.
The origin of the loud bang continues to baffle residents, with some claiming it felt like a gas explosion.
One Twitter user wrote: "Any news about the huge explosion sound an hour ago near Davyhulme? It shook all the houses here, sounded like a gas explosion."
Michelle Mott posted on Facebook: "It sounded exactly like an industrial firework to me. If it was set off in Buile Hill park then that is up a hill that has a panoramic view of Salford, Trafford, etc as far as the eye can see. Any loud bang up there would travel miles especially with it being night time."
Others have suggested the noise was a sonic boom which occurs when an object travels faster than the speed of sound.
Darren Wells wrote: "It's clearly a noise generated from an aircraft. It's a sonic boom, aircraft possibly underneath radar and breaking sound barrier."
Some M.E.N readers have suggested the bang could have been caused by ongoing building work in the area.
Lyndsey Curran-Dumez wrote on Facebook: "They are also currently in the process of knocking down all the lovely old buildings next to the museum. There was a fire in them a few weeks ago. "Probably site flood lights and part of building collapsing would be my guess."