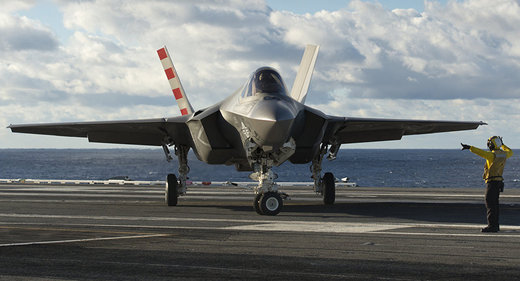 Lockheed Martin CEO Marillyn Hewson left a meeting with US President-elect Donald Trump asserting that an upcoming deal with the Pentagon will slash the price of the F-35 program "significantly," noting that the aerospace company plans to add about 1,800 jobs to a plant in Texas.
President-elect Donald Trump and Lockheed Martin CEO Marillyn Hewson convened for a second meeting on Friday to inch closer on a deal to lower the "tremendous cost and cost overruns" of the F-35 Joint Strike Fighter. After holding negotiations at Trump's Mar-a-Lago estate in Florida in late December 2016, Trump tweeted that he would ask Boeing to price out "comparable" F/A-18 Super Hornets.
Hewson "certainly" agreed with Trump "that we need to get the best capability to our men and women in uniform and we need to get it at the lowest possible price," according to a statement.
The Pentagon is slated to purchase 2,158 more F-35s through 2036, the Congressional Budget Office said in a brief, and the tenth block of F-35s the US is buying from Lockheed is its largest yet, at 90 aircraft. In December 2016, Lt. Gen. Christopher Bogdan expressed his hope that F-35 costs could be trimmed six to seven percent.
Estimates of the ninth order for the F-35s indicated that the F-35A ran $102 million apiece, while the F-35B and F-35C planes cost taxpayers about $132 million per plane. A Government Accountability Office report from March 2016, however, calculated the cost for the Pentagon's jets to come out around $160 million per unit.
Trump said during a press conference at the Trump Tower on Wednesday that Lockheed's F-35 is "way, way behind schedule and many, many billions of dollars over budget. I don't like that."
While the ninth order resulted in a $6.1 billion bill for 57 planes, the tenth installment is valued at near $7.19 billion, Bloomberg reported. The Pentagon made a $1.28 billion advance payment in November 2016 to maintain production. F-35 manufacturing facilities in Fort Worth, Texas, are a central component of that city's economy, the
Texas Tribune
notes.
The US Marine Corps recently activated the first operational international platoon of 10 F-35Bs, to be stationed in Iwakuni, Japan. After years of development and research, along with billions poured into the fifth-generation Joint Strike Fighter program, the jet continues to suffer from fires before takeoff and sometimes mid-flight.