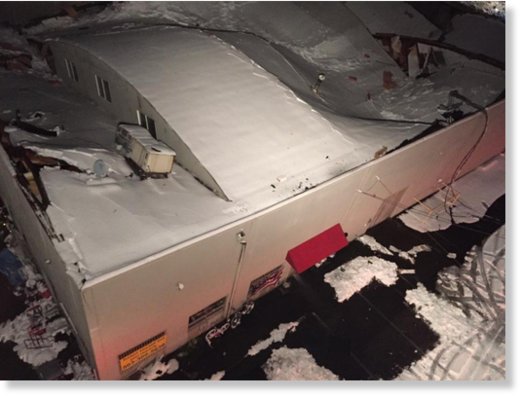 Hillsboro Fire Department early Thursday said a roof had collapsed on a produce warehouse in Hillsboro on Southeast Fourth.
Five people escaped unhurt, spokesman Storm Smith said.
Workers are not allowed to sleep inside the building, but they sometimes do, he said. Smith was not able to confirm that everyone affected worked at the warehouse.
Roof collapse at produce warehouse SE 4th. 2 people sleeping there escape unhurt. pic.twitter.com/fJpEgmyn1F

-- Hillsboro Fire Dept (@HillsboroFire) January 12, 2017
Utility workers turned off water and gas service to the building because both substances were leaking inside, Smith said.
Utilities being shut off to building following roof collapse. Broken sprinkler lines & nat gas hazard. pic.twitter.com/8wkPb0ETKU

-- Hillsboro Fire Dept (@HillsboroFire) January 12, 2017
The building was constructed in the 1950s or '60s, when construction standards were not as strict as today, Smith said. There are no other buildings in the area that firefighters are keeping a particular eye on, he said.
In Bend, city warnings that heavy, accumulating snow threatened roofs turned into reality Wednesday when one building collapsed and one was seriously damaged, the
Bulletin
reported.
Bend firefighters responded to a report of a collapsed building Wednesday evening near the Old Mill District. The roof of the building appeared to have collapsed under the weight of 2 feet of snow. Earlier Wednesday, heavy snow threatened to cave in a wall of a FedEx distribution center in Bend, prompting the evacuation and closure of the building, with undelivered packages still inside.
A tweet from the Bend Fire Department said the FedEx building "could literally collapse at any time."
The building is still standing, but its north wall is bowed and an engineer told Bend fire officials that the structure is unsound.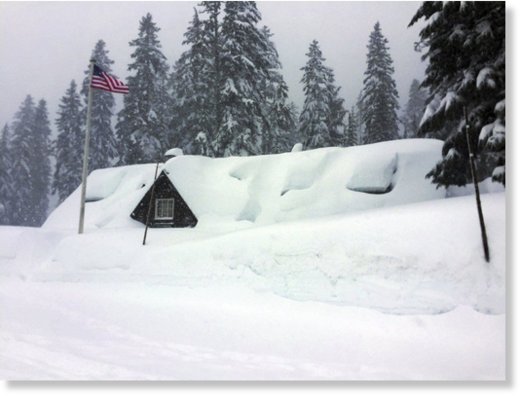 In Ontario, the weight of all the snow, with the recent ice rain storms has ended up causing structural damage to many buildings around the Western Treasure Valley.
Among the damage, the Argus Observer reported, the collapse of Weiser Lanes, as well as roof collapses at Les Schwab, Girvin Hall at the Malheur County Fairgrounds and an onion shed on Southeast Fifth Avenue.
Other known collapses/roof damage:
* Ontario Fire Chief Terry Leighton confirmed the collapse of the old roller skating rink on Southeast Second Avenue, also known as Baker Storage.
* Ontario City Manager Adam Brown confirmed the building under the old water tower on North Oregon
* Brown also confirmed that Ore-Ida has had some parts of its building collapse
* The Bend-La Pine Schools announced an emergency closure for all schools after a gymnasium roof at a magnet school collapsed Thursday morning. No one was inside the gym.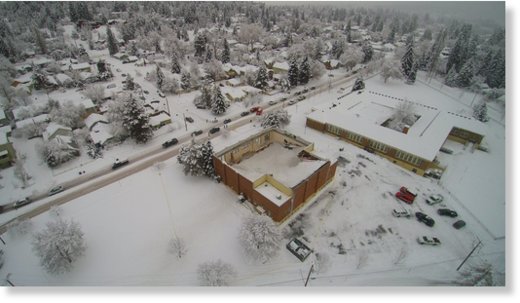 Dude. So scary. Via @KTVZ: Drone shot shows the Highland Elementary School roof collapse #inBend due to snow load. Photo courtesy: Kyle Low pic.twitter.com/e2s0lWJogT

-- Ben Salmon (@frequencyblog) January 12, 2017
On Sunday, a large portion of the vacated Woodgrain Millwork facility
collapsed
under the weight of the mounting snow, the
Central Oregonian
reported.
-- The Bulletin and the Argus Observer in Ontario