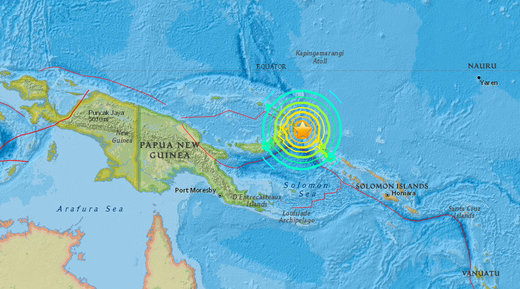 A powerful earthquake, initially measured at magnitude 8.0, has hit east of Papua New Guinea, according to the US Geological Survey. The tremor prompted New Zealand's Civil Defense to issue a tsunami warning, which was soon canceled.
"Widespread hazardous tsunami waves are possible," the Pacific Tsunami Warning Center (PTWC) said in a message after the quake, which struck the New Ireland region of Papua New Guinea at a depth of 73 km.
The tsunami waves are
forecast
to reach one to three meters above the tide level along some coasts of the archipelago in the South West Pacific region.
The quake initially struck about 157 kilometers east of the port of Rabaul, Papua New Guinea, on Saturday and was measured at magnitude 8.0, according to the
USGS
. It was then re-scaled to magnitude 7.9.
Rabaul is a township on the island of New Britain, which has a population of some 3,885 people.
According to PTWC, a tsunami threat to Hawaii is still being evaluated.
While New Zealand's Civil Defense issued an official tsunami warning, no evacuations are necessary at this stage. However, the agency did warn residents via its Twitter account to stay out of the water and off the beaches.
"At this stage we are advising New Zealanders to stay off the beaches, stay out of the water, not to go sightseeing and to listen to the radio and TV," a spokeswoman for the Ministry of Civil Defence & Emergency Management also said.
"The warning's been issued from the whole of NZ," she added.
Shortly after that the threat was canceled.
Mainland New Zealand is some 4,500 kilometers or 2400 nautical miles away from Papua New Guinea.
According to @NewEarthquake, which monitors global earthquake and tsunami warnings, the initial quake has already been followed by at least three aftershocks, with magnitude 5.5-6.0.
Papua New Guinea lies on the so-called Pacific 'Ring of Fire,' a volcanically active region where earthquakes, tsunamis and volcanic eruptions are common.