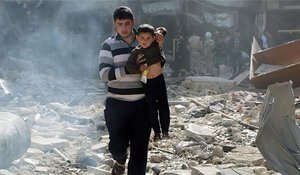 As Syrian government forces recapture more parts of eastern Aleppo, many civilians are risking their lives to flee the besieged opposition-controlled areas, telling the world that the so-called "rebels" stop at nothing to prevent people from leaving.
The Syrian government and its Russian allies have long accused armed opposition groups in Aleppo of holding civilians hostage, whereas western governments and media have been promoting a different narrative in tune with "rebel" and "activist" sources.
This narrative is now falling apart.
When government forces first managed to encircle the opposition-held districts of Aleppo in July of this year, Russian Defense Minister Sergei Shoigu announced the opening of humanitarian corridors "to aid civilians held hostage by terrorists and for fighters wishing to lay down their arms."
[1]
Bashar Jaafari, Syria's ambassador to the United Nations, said in a July 26 letter to the Security Council that "the Syrian Army informed the civilian residents of those neighborhoods that it has secured safe passages, for those who want to safely exit those areas, and that it has allocated temporary accommodation for them."
Jaafari's American counterpart Samantha Power described the letter as "chilling,"
commenting on Twitter that Jaafari "warns Syrians to leave eastern Aleppo and entrust their lives to a government that has bombed and starved them."
[2]
Likewise, the
Guardian
said the announcement of humanitarian corridors "must be exposed as
a cynical ruse
," stating that "it is no surprise that Aleppo's population is not rushing towards these exit corridors, which have not in any case materialised on the ground."
[3]
Contrary to the
Guardian
's claims, civilians in eastern Aleppo tried to use the exit corridors, much to the dismay of the armed opposition groups. According to the pro-opposition Syrian Observatory for Human Rights (SOHR), only "around 12 people managed to use the Bustan al-Qasr corridor
before rebel groups reinforced security measures and prevented families from approaching the corridors
."
[4]
Comment:
And that's coming from
SOHR
, a
pro-rebel
"source".
Instead of putting pressure on the "rebel groups" to allow civilians to leave, the United States and its allies supported a major offensive led and organized by terrorist organization Jabhat al-Nusra to break the siege and "put some pressure back on Russia and Iran," as one western diplomat put it.
[5]
The Nusra-led July-August offensive was successful but didn't change the course of the battle for Aleppo.
A few weeks later, Nusra terrorists and their brothers-in-arms in eastern Aleppo found themselves again under siege.
Before pursuing a military solution, the Syrian government and Russia announced a unilateral cease-fire to allow civilians and surrendering fighters to leave the opposition-controlled areas.
Once again, the opposition groups in eastern Aleppo did their best to prevent this.
ITV News, reporting from government-held western Aleppo on the first day of the unilateral cease-fire, confirmed that "rebels" were
firing on checkpoints and exit corridors, making it extremely dangerous for anyone to leave eastern Aleppo
. Describing the situation at one of the checkpoints, ITV News correspondent Dan Rivers said: "We were forced to run for cover as
rebel sniper fire
sent soldiers and onlookers scattering for their lives."
[6]
As
The Independent
's Bethan McKernan pointed out, "several residents inside east Aleppo reported that people trying to cross into the West were shot at by mortar fire."
Despite all evidence to the contrary,
antigovernment fighters and their supporters kept denying that civilians were being held hostage in eastern Aleppo
. "Rebel sources and activists from the Aleppo Media Centre said reports of the opposition stopping evacuations were fabricated," McKernan noted.
[7]
"All the human corridors that the regime is promoting, are
all lies
," antigovernment activist Bassem Ayoud told
The New York Times
. "
What's happening is an extermination of people
."
[8]
These dubious claims went largely unchallenged; instead, many western journalists and analysts cheered on another "rebel" offensive intended to break the siege of eastern Aleppo.

Comment: And they're still being floated:



As was the case with the July-August offensive, the October-November offensive only prolonged the suffering of civilians in both eastern and western Aleppo.
Two days into the offensive, Staffan de Mistura, the United Nations special envoy to Syria, said he was "appalled and shocked by the high number of rockets indiscriminately launched by armed opposition groups on civilian suburbs of western Aleppo in the last 48 hours."
"Those who argue that this is meant to relieve the siege of eastern Aleppo should be reminded that nothing justifies the use of disproportionate and indiscriminate weapons, including heavy ones, on civilian areas and it could amount to war crimes," de Mistura said in a statement issued by his office on October 30.
[9]
Despite showing a total disregard for civilian life, the jihadist-led opposition fighters were not able to break the siege this time around, suffering a devastating defeat in "the mother of all battles," as they called it.
During this time, Russia refrained from resuming airstrikes on Aleppo, sticking to the unilateral cease-fire,
but only a few dozen civilians were able to leave the opposition-controlled areas
. Among them was Khaled Kadoura who fled to the government side with his wife Samira and their eight-year-old son. Kadoura painted a much different picture than "rebel" and "activist" sources, telling Robert Fisk from
The Independent
:
"On the day this started [20 October], the armed groups in east Aleppo surrounded the people who wanted to leave with a sort of 'security circle' to prevent them going out. They even had weapons in their hands. They shot at some people - I was told six died - and they killed a pregnant woman. She was killed and there were others wounded. They accused the [Syrian] government of shelling the passageways. We waited till night to cross and we waited till after the Maghreb prayers when we knew that the armed men near the crossing point would have gone to rest. Later, they were all arrested and accused of taking bribes to allow us to cross. We had to be so careful because of mines."
After he fled with his wife and son, his 27-year old brother Hamzi was arrested by Ahrar al-Sham and sentenced to execution
, Kadoura said.
[10]
Despite all that, western media outlets kept echoing absurd opposition propaganda.
Summarizing the period of the unilateral cease-fire, Kareem Shaheen and Emma Graham-Harrison from the
Guardian
wrote: "Almost no one came through the corridors, which opposition fighters said were not actually safe."
The fact that opposition fighters were firing on the exit corridors was not mentioned in the article.
No one at the
Guardian
bothered to question the claims of Fastaqim spokesman Sharif al-Halabi as he told them that the opposition still had the support of most people in the besieged areas.
"Of course under bombardment people are going to be restless and complain, but the fact of the matter is the majority of those who live in the liberated areas are with the Free Syrian Army despite the siege," the
Guardian
quoted al-Halabi as saying.
[11]
But a few weeks later, opposition lines in eastern Aleppo began collapsing,
enabling tens of thousands of civilians to flee and tell the world their side of the story
.
17-year-old Rasha told Agence France-Presse (AFP) that opposition fighters did not allow her to leave when she wanted to move to her parents' new home outside Aleppo.
[12]
"
All my neighbours wanted to leave but the rebels prevented them many times
," Rasha said in an interview.
[13]
Another woman would speak only in confidence about the dangerous journey to the government side. She explained to the BBC that
opposition fighters tried to prevent civilians from leaving saying that they would be killed by the Syrian army if they crossed over
. As if this was merely a side note, the BBC noted in passing: "Like many others, she recounted how they came under
rebel
fire as they tried to escape."
[14]
Likewise, the Associated Press (AP) buried a remarkable eyewitness account in the last two paragraphs of its report from Jibreen, where thousands of men, women and children from eastern Aleppo have taken refuge:
"We were under pressure by all means, psychological and financial. The gunmen were trying to prevent us from leaving until the army came," said 36-year-old Amina Rwein, who fled with her husband, seven daughters and three sons.

"We came under fire from the gunmen as we were leaving and the army hit the minaret from where the sniper was shooting, and then we crossed," she said.[15]
Many people who fled eastern Aleppo told similar stories, confirming that the so-called "rebels" shot at civilians to prevent them from leaving.
"I wanted to leave with my kids 15 days ago but
the rebels shot at me
and said 'Hey, you bastard -- do you want to join the regime?" one man told CNN at a camp in Jibreen.
For some reason,
none of this made the headlines
.
Moreover,
CNN and others kept promoting the same "rebel" and "activist" sources
that had just been exposed as participants in a devious propaganda campaign, such as the pro-opposition Aleppo Media Center.
[16]
Thanks to the support of western media, "rebel" and "activist" sources have been able to deceive the public for months while hundreds, possibly thousands, of civilians were being held hostage in eastern Aleppo.
Needless to say, not all civilians want to cross over to the government side, but it is impossible to tell how many civilians are still staying in the ever shrinking opposition-controlled areas and how many of them are being prevented from leaving.
On December 7, the United States, the United Kingdom and other NATO countries issued a statement claiming that "some 200,000 civilians, including many children, in eastern Aleppo are cut off from food and medicine supplies."
[17]
Although opposition fighters already lost control of three quarters of their territory in eastern Aleppo, international humanitarian officials estimate that only around 30,000 civilians have fled to government-held areas in the past week.
[18]
It is only a question of time before Syrian government forces recapture all opposition-held districts of Aleppo. Once the dust settles, it will become clear how many people were really living in eastern Aleppo under the rule of Jabhat al-Nusra, Ahrar al-Sham and other opposition groups.
Supporting these groups and helping them spread their propaganda will only prolong the suffering of civilians in Aleppo.
When opposition fighters invaded Aleppo more than four years ago after the city refused to join the uprising, a "rebel" commander told the
Guardian
:
"Around 70% of Aleppo city is with the regime. It has always been that way. The countryside is with us and the city is with them. We are saying that we will only be here as long as it takes to get the job done, to get rid of the Assads. After that, we will leave and they can build the city that they want."[19]
As the world's biggest hostage crisis comes to an end, the armed opposition and its supporters have to ask themselves if trying "to get rid of the Assads" was really worth all the death and destruction.
Christoph Germann is an independent analyst and researcher based in Germany, where he is currently studying political science. His work focuses on the New Great Game in Central Asia and the Caucasus region. You can visit his website here
Notes
"Calls grow for Syria government to end Aleppo siege," Agence France-Presse, 29 July 2016.
Andrey Ostroukh, Raja Abdulrahim and Farnaz Fassihi, "Russia, Syria Promise Exit Corridors for Rebels, Civilians in Aleppo," The Wall Street Journal, 28 July 2016.
"The Guardian view on the battle for Aleppo: stop it now," The Guardian, 29 July 2016.
Ibid., Agence France-Presse.
Erika Solomon, "Outside help behind rebel advances in Aleppo," Financial Times, 8 August 2016.
"Gunfire intensifies in Aleppo despite ceasefire," ITV News, 20 October 2016.
Bethan McKernan, "East Aleppo civilians 'shot at' by rebels to prevent them leaving during truce," The Independent, 21 October 2016.
Anne Barnard, "Wary of Russian Guarantees, Residents Stay Put in War-Torn Aleppo," The New York Times, 20 October 2016.
"Media statement from the Office of the United Nations Special Envoy for Syria, Mr. Staffan de Mistura," UN Department of Public Information, 30 October 2016.
Robert Fisk, "'We were living a real tragedy in east Aleppo': One family's journey across the city amid the bloodshed," The Independent, 1 November 2016.
Kareem Shaheen and Emma Graham-Harrison, "Russia and Assad to pound rebels as east Aleppo braces for attack," The Guardian, 5 November 2016.
Maher Al-Mounes, "Aleppo family reunited after months separated by war," Agence France-Presse, 2 December 2016.
"Aleppo family reunited after months separated by war," Agence France-Presse, 2 December 2016.
Lyse Doucet, "Aleppo siege: 'We are crying and afraid'," BBC, 3 December 2016.
"Syria: Thousands of Aleppo's Displaced Pack Market Shelter," The Associated Press, 3 December 2016.
Frederik Pleitgen and Angela Dewan, "Syrian war: CNN goes inside Aleppo under airstrikes," CNN, 5 December 2016.
Joint statement from the leaders of Canada, France, Germany, Italy, the United Kingdom and the United States on the situation in Aleppo, 7 December 2016.
Anne Barnard, "Syrian Forces Said to Drive Deeper Into Rebel-Held Aleppo," The New York Times, 7 December 2016.
Martin Chulov, "Syrian rebels fight on for Aleppo despite local wariness," The Guardian, 21 August 2012.