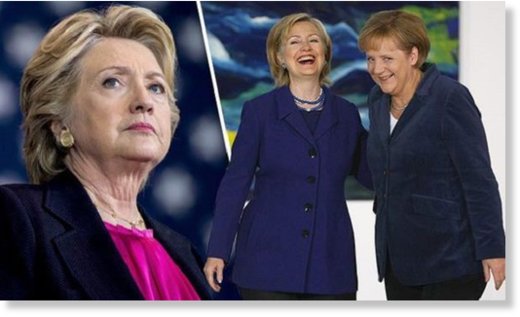 According to reports, the failed Democratic nominee's US-based charity received the cash to help plant trees in Africa at exactly the time she declared Angela Merkel her "favourite" politician.
But the revelation of the financing arrangement has been met with scorn.
In October, around the same time the transaction was made, it was revealed that Mrs Clinton said the German Chancellor was one of her "favourites" when asked about who she admired in global politics.
Mrs Clinton said on board her plane: "One of my favourites is Angela Merkel because I think she's been an extraordinary, strong leader during difficult times in Europe, which has obvious implications for the rest of the world and, most particularly, our country.
"And I hope I'll have the opportunity to work with her in the future."
The Clinton Foundation has been the subject of much controversy since the publishing of a top selling book "
Clinton Cash
", by author Peter Schweizer.
According to reports the tome alleges foreign groups and governments gave money to Mrs Clinton's charity in return for access to the State Department while she was Secretary of State.
Now eyebrows are being raised after it was revealed German taxpayers handed over millions in the third quarter of the year, during the period Mrs Clinton was running for President - while at the same time being investigated by the FBI.
And it has been claimed the foundation's donors list shows the Federal Ministry of the Environment had made the transaction.
German politician Vera Lengsfeld, of Angela Merkel's Christian Democratic Unionist Party, said there are serious questions to answer.
Ms Lengsfeld, the daughter of an East German secret police officer, wrote in her blog: "Why does a federal ministry support the election campaign of an American presidential candidate?
"Apparently German taxpayers had to finance Hillary Clinton's election campaign without knowing it."
The German Federal Ministry for the Environment has denied that the donation was linked to the election.
It confirmed the transaction took place and insisted the money was to provide "financing under the International Climate Protection Initiative (ICI)".
The ministry also claimed the public funds served to "support forestry and landscape renaturation in East Africa".
German taxpayers are also funding Clinton Foundation projects that involve the "restoration of forest ecosystems" in India, Kenya, El Salvador, Mexico, Vietnam, Uganda and Peru - according to reports.
Barbara Hendricks, the Federal Environment Minister's spokeswoman, said of the Africa deal: "This is a project that is carried out directly by the Clinton Foundation in Kenya and Ethiopia with German co-financing.
"The experiences with the Clinton Foundation have been positive so far.
"Examination of the project so far has not led to any complaints."
Former US president Bill Clinton founded the Clinton Foundation after he left office in 2001.
It has gone on to accept £1.5billion in donations over the years and attracted support from former British prime ministers Tony Blair and Gordon Brown.