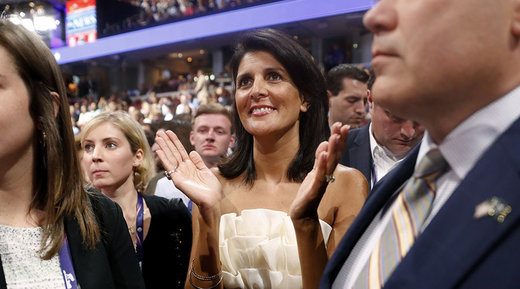 President-elect Donald Trump has offered the post of US ambassador to the United Nations to Governor Nikki Haley (R-South Carolina). The nomination raised eyebrows due to her inexperience in foreign policy and previous disagreements with Trump.
The president-elect tapped one of his biggest critics during the election to serve as the head of the US delegation to the UN, a position that requires intense diplomatic skills. Trump praised Haley as someone who has a "track record of bringing people together regardless of background or party affiliation."
"She is also a proven dealmaker, and we look to be making plenty of deals. She will be a great leader representing us on the world stage," Trump said in a statement.
Haley said she accepted Trump's offer out of a sense of duty to the country.
Having served as governor of South Carolina since 2011, Haley has no experience in the international arena other than trips overseas to negotiate trade deals for South Carolina businesses. She has also never served in government at the federal level.
"She's such an unknown in foreign policy space that it's kind of hard to tell what to expect," a UN official told Politico.
Her inexperience hasn't kept her from speaking out on foreign policy, however. She was sharply critical of Trump's proposed temporary ban on Muslims entering the country, calling it "un-American."
Initially, Haley was not one of nearly 20 Republican governors who said that they would
block the acceptance of thousands of migrants
into their states, after at least two perpetrators of the November 2015 terrorist attacks in Paris were revealed to have entered France posing as refugees.
"These are people who have protected our troops, these are people who have been persecuted for being Christian, these are people who have been hurt because of their political beliefs, these are people who we took in because they were unsafe where they were," Haley said at the time.
However, at one point in 2015, she did consult with the FBI over concerns about resettling Syrian refugees, arguing her first duty was to protect the safety of South Carolina residents. She later asked Secretary of State John Kerry to halt resettlement of refugees in the Palmetto State until she received assurances that proper security checks were completed, the Charleston Post and Courier reported. As of mid-June, 22 Syrian refugees had been resettled in South Carolina, and another 26 were approved to do so.
Haley was criticized as being hypocritical for lobbying Congress to
not allow Guantanamo Bay detainees
to be
transferred to a proposed location
in South Carolina."Why would anyone want to put terrorists in Charleston?
"
she asked the House Oversight and Management Efficiency Subcommittee in April. In response, Representative Bennie Thompson (D-Mississippi) pointed out that Charleston already houses terrorists, including accused gunman Dylann Roof, who
shot and killed nine people
at an African Methodist Episcopalian Church in Charleston last June. South Carolina previously held former Guantanamo detainee Yaser Hamdi and American Jose Padilla, who was convicted of plotting a terror attack with Al Qaeda, the Huffington Post reported.
Last September, Haley joined 14 other Republican governors to write a letter to President Barack Obama that voiced their opposition to the Iran nuclear deal, which Trump has promised to undo.
"The people of our states will not be safer as a result of this agreement, much less citizens of countries like Israel which Iran has threatened to destroy," the 15 governors
wrote
. "Many of our states have divestment policies for state run pension funds and other state investments, as well as restrictions against state contractors being invested in or doing business with the government of Iran."
Senator Lindsey Graham (R-South Carolina),
another vocal Trump critic
, praised the president-elect's pick, describing Haley as "a strong supporter of Israel," adding that her presence at the UN "will be reassuring to all those who are concerned about the increasing hostility of the United Nations toward Israel."
Under Haley's watch, South Carolina became the first state to take action against efforts to
boycott, divest and sanction
Israel by prohibiting public entities from contracting with companies engaging in the "boycott of a person or an entity based in or doing business with a jurisdiction with whom South Carolina can enjoy open trade."
Born to Punjabi Sikh immigrants from India, Haley is a Christian who attends a Methodist church. She was seen as a rising star in the Republican Party - delivering the 2016 response to President Barack Obama's State of the Union speech - until she feuded with Trump over her remarks. She endorsed two of his opponents,
Marco Rubio
and Ted Cruz. The 44-year-old also holds an honorary fourth-degree black belt in Tae Kwon Do.