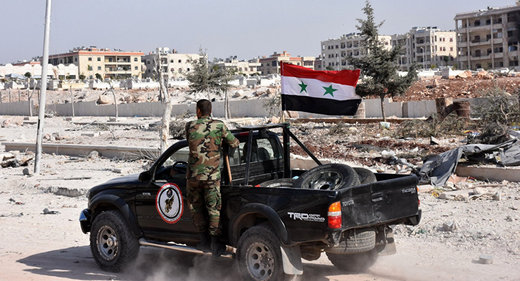 The Syrian Army, supported by the country's National Defense Forces, is preparing for the beginning of a large-scale operation to sweep the militant-held eastern districts of Aleppo, according to RIA Novosti.
A large-scale military operation by the Syrian Army to drive the terrorists out of the eastern districts of Aleppo is due to kick off in northern Syria very soon
, RIA Novosti reported.
According to Arab experts, up to 7,000 militants remain in Aleppo's eastern areas.
On Thursday, Syrian forces launched artillery strikes against fortified enemy positions in the neighborhoods of Tariq al-Bab, Salikhin, Shaar and Es Sukkar where the terrorists' first line of defense is deployed.
The shelling came as Syrian warplanes staged air strikes on the militants' logistical hubs in Khan al-Asal, Kafr Hamra and Haraytan.
In addition, the militants have lost much of their armored vehicles and off-road vehicles equipped with heavy machine guns.
RIA Novosti sources specifically pointed to the fact that the terrorists are offering stubborn resistance as the Syrian Army continues to advance on the militants' strongholds near Aleppo.
On Friday morning, Syrian Air Force planes destroyed one of the key command centers of the Jaish al-Fath militants located west of Aleppo.
In addition, the air raids obliterated several headquarters of the terrorist Jabhat Fateh al-Sham group, previously known as Al-Nusra. The headquarters were stationed north of Aleppo.
Currently, the elite units of the Syrian armed forces are concentrated in nine key points around the city and are waiting for the order to start clearing those areas still controlled by the terrorists, RIA Novosti reported.
Witnesses said that the situation inside eastern Aleppo is yet to be stabilized, with the militants strengthening control over the mosques to avoid possible civil unrest.
Many people in Aleppo are dissatisfied with the fact that the terrorists have not allowed them to take advantage of the recent pause in the fighting to leave the city through one of the humanitarian corridors. Instead, the terrorists continue to use civilians as human shields, and people respond by staging protest rallies.
Right now, the terrorist groups related to Jabhat Al-Nusra hold thousands of civilians in the eastern neighborhoods of Aleppo and keep them from fleeing via the designated army humanitarian corridors, according to RIA Novosti.