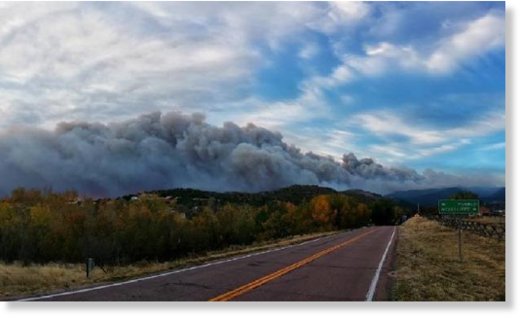 Authorities say a wildfire in southern Colorado has
destroyed five homes and hundreds of people remain under evacuation orders.

The Pueblo County Sheriff's Department said Tuesday the fire had scorched more than 25 square miles.
The sheriff's department says the fire started when high winds blew a metal outbuilding into a power line.
In addition to the homes, 13 outbuildings have been destroyed.
Crews were trying to block the flames with fire lines, but authorities said the blaze was still uncontained Tuesday night.
Custer County has declared the fire a local emergency, and the Colorado Office of Emergency Management is trying to secure a verbal declaration of disaster from the governor's office, which will provide funding and help from the Colorado National Guard.
There are 114 firefighters battling the Junkins Fire. Additional resources include four single-engine air tankers, two type one helicopters, two National Guard helicopters and three heavy air tankers.
Heavy winds led to heightened fire danger across Colorado Monday. Firefighters say there are no red flag warnings on Tuesday, though wind gusts could reach 20 miles per hour.
The priority is to keep the fire from advancing north, since this is where much of the private property is located.
The fire is currently fueled by a combination of mixed conifers, aspen trees and grass,
according to the Junkins Fire Facebook page.