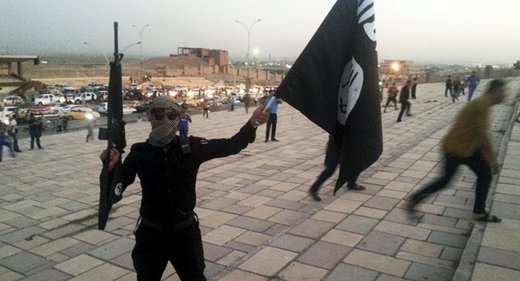 The operation to retake northern Iraq's city of Mosul from the Islamic State terrorist organization
began this morning
. Anti-Daesh "coalition" commander Lt. Gen. Stephen Townsend said the battle could last for weeks, "
possibly longer
", and "may prove to be a long and tough battle." An Iraqi military source says it could be completed in
two weeks
(just in time for the U.S.
elections
!). CENTCOM says
19 nations
are participating, which basically means Iraq, the U.S., and a bunch of hangers-on to cheer lead and maybe ride shotgun during an airstrike or two.
Daesh overtook and occupied the city in June 2014, causing half its population to flee and leaving 1.3 million civilians. The number of estimated anti-Daesh forces ranges anywhere from 30,000 to
65,000
to
80,000
, with
4,000
Kurdish Peshmerga and 24,000 militiamen, not to mention around 6,000 U.S. troops. (The Kurds have agreed with the Iraqi government not to enter the city, however.) They are set to battle an estimated
3,000-4,500 Daesh militants
(according to U.S. military estimates).
Back in
February 2015
, there were rumors that as many as 30,000 Daesh fighters were in Mosul - a number dismissed by one Iraqi officer as Daesh propaganda, the real number being closer to 12,000 fighters. In
March 2016
, CNN reported an estimate of "up to 10,000 ISIS fighters" there. And just four months ago, in June, Osama al-Nujaifi, head of United Coalition in Iraq, confirmed that there were
12,000 militants
in the city and its suburbs. At the same time, U.S. coalition Col. Christopher Garver said ISIS had "
less than 10,000
" fighters in Mosul.
In other words, for a year and a half, the number of Daesh militants in Mosul has been estimated by Iraqi and American sources at around 10,000-12,000. Now the Americans are saying there are only 3,000-4500. (And that probably
includes
the various local Baathists and Sufist Naqshbandi Army insurgents.) By those numbers, that means that anywhere from 5,500 to 9,000 Daesh fighters are MIA. Where did they go?
Well, last week we saw this report:
Russian govt source: US & Saudi Arabia planning to shuttle 9,000 ISIS fighters from Iraqi Mosul to Syria... ahead of 'Mosul operation to get ISIS'
. This was confirmed to a degree by Said Mamuzini, a representative for Iraqi Kurdistan's KDP, who said that "during the operation a corridor will be left for terrorists
to escape to Syria
. Those retreating this way will not be captured."
Turkish President Erdogan, who has
reiterated
his intention to put Turkey into the fighting, probably said it best when he said the Turks would take Mosul, just like they took Jarablus.
There are already reports of Daesh militants and their families reaching various cities in eastern Syria, but so far the reports don't indicate that they have come from Mosul. Fars News Agency
reports
:
Informed sources in Northern Syria disclosed that the ISIL terrorist group is evacuating its fighters and their families from different regions to concentrate them in its self-proclaimed capital of Raqqa to strengthen its defense abilities there. "Four buses and several other vehicles, carrying ISIL fighters and their family members, left Northern Aleppo heading towards the town of al-Mansoureh in the Western countryside of Raqqa," the sources said.
ISIS members have reportedly also arrived from Nineveh province in Iraq, making their way
to Hasakah and Deir ez-Zor
:
Local sources told ARA News that more than 90 ISIS members, along with their families, arrived in Margada town - near the administrative borders between Hasakah and Deir ez-Zor Governorates. Eyewitnesses reported that there were at least 25 families in the ISIS convoy.

Also on Saturday, several ISIS military vehicles passed through al-Qa'im crossing on the Syrian-Iraqi border. The vehicles continued on to al-Bukamal city in Syria's Deir ez-Zor Governorate. "The vehicles crossed the border in the early morning on Saturday, carrying weapons and dozens of ISIS fighters," local media activist Ahmed Hamwi told ARA News.

Today's movement is part of a larger redeployment and comes just one day after ISIS militants abandoned their headquarters in Tel Afar District, which is also in Nineveh Governorate.
And then there's this piece that takes the cake:
Daesh Leader Al-Baghdadi Escapes Mosul Airstrike Minutes Ahead of Attack

The US-led coalition conducted an airstrike on Mosul during a meeting of the commanders of the terrorist organization Daesh; in attendance was Daesh leader Abu Bakr al-Baghdadi, who is constantly changing his location in Iraq and Syria. Unfortunately, at the last moment, he escaped.

Islamic State (ISIL or Daesh) jihadist group ringleader Abu Bakr Baghdadi escaped an airstrike in the Iraqi campaign to liberate the northern city of Mosul minutes ahead of an attack, local security sources told Sputnik on Monday. "Baghdadi escaped at the last moment from the airstrike on a meeting among commanders in Mosul," the sources said without clarifying whether the strike was conducted by Iraqi forces or the US-led coalition.

Al-Baghdadi's movements are known only by his inner circle, with the leader constantly changing location in Iraq and Syria to avoid airstrikes.
Never mind the reports that he was killed
back in June
, or that he was
poisoned
and taken to "an unknown location" to recover, or that he had
already fled
Mosul along with his top commanders in advance of the well-publicized plan to take Mosul. Baghdadi is a ghost, either literally of figuratively,
just like 'Omar the Chechen'
and
the US' former al-qaeda in Iraq boogeyman al-Zarqawi
. Baghdadi hasn't made a public statement, appeared on video or in photos for years. Whenever his name is brought up, you can bet it's for propaganda purposes.
You have to give it to the Americans: they know how to milk this situation for all it's worth.
Mosul is the second largest city in Iraq, and its liberation will be a major victory, on both the PR and military fronts. Having given Daesh safe passage, and leaving only a token force in the city, the battle could go relatively smoothly. And Daesh is simply free to move on into Syria, where they can reinforce their brethren in Raqqa, Hasakah and Deir ez-Zor. U.S. wins, Daesh wins, Syria loses.
So far, Turkish Deputy Prime Minister Numan Kurtulmus has been the only one to
raise the issue
, but only in reference to Turkey:
When IS militants are ousted from Mosul, where will they go? Not to France or Germany, but to Turkey, which is closer, and that is a threat to us.
Despite the possible negative effects for Syria, Damascus
supports
the operation, affirming that "victory over Daesh in Iraq is a victory over Daesh in Syria," according to a source of the Syrian Arab News Agency.
The U.S.-led coalition is reportedly "
pounding
" Daesh positions in and around Mosul, and will provide close air support throughout the operation, according to the Kurdish Peshmerga. The U.S. says it has destroyed
52 Daesh targets
, and the attack is progressing well on all fronts. One of these "Daesh targets" was allegedly a strategic bridge (video of the results
here
). Our anonymous sources tell us that the next strategic Daesh targets to be hit by US bombs will be water sanitation facilities, power stations, hospitals and schools. But hey, you can't trust anonymous sources, right?
Troops are closing in on the city: the Kurdish Peshmerga are reportedly
only 11 km
away, having liberated
8 towns and villages
north and east of Mosul. The Peshmerga say Daesh is suffering "
heavy losses
". The Iraqi military just retook Bashiqa, 12 km from Mosul. Mithal Al-Aulasi, head of an Iraqi political bloc called the Civil Democratic Alliance,
told Sputnik
"Daesh's first line of defense has fallen", and that Iraqi forces should advance into Mosul itself in the next few hours, adding: "During the next few days the fighting will become harder as the confrontation will be shifting to urban warfare."
Local Iraqi media report that Daesh's police force staged an uprising against Baghdadi - perhaps because he hightailed it out of Mosul, leaving them all in the lurch, or because he had the effrontery to get himself killed four months ago - whatever the case, it has reportedly been
successfully suppressed
:
The source added that the militant group had "fully regained control over all headquarters after violent clashes that lasted for several hours." According to the source, the leader of the Daesh religious police was killed, along with a number of his aides, and the group "conducted mass executions of dozens of religious police militants in locations where the clashes took place."
This comes just days after another report of Daesh infighting:
Daesh uncovers alleged rebellion in Mosul, executes 58 of their own as traitors
.
The Iraqi military has also suffered its first major counterattack. A suicide bomber struck an Iraqi military convoy east of the city, killing
at least 70 Iraqi soldiers
near Belawet village. Daesh launched
a series
of such attacks against the Kurdish Peshmerga and Shiite militias: eight manned car bombs that destroyed two humvees. Video of one of the attacks below:
What is mostly left unsaid is the comparison to Aleppo. No doubt the strategy to take Mosul will be the same as the U.S. strategy to take Fallujah, Manbij, and Kobani: saturate the city with indiscriminate airstrikes, kill a massive number of civilians, move in ground troops to mop up, and declare victory. But don't dare compare that to Aleppo. It's totally different, even though it's totally the same (or actually worse, since the Syrians and Russians actually show more restraint than their American counterparts).
Putin made the connection recently, with this kindly
advice
:
Russian President Vladimir Putin said the actions of the US and France in Iraq's Mosul should be very careful to minimize the death toll among the civilian population. "We hope that our American partners and, in this case, French partners will act selectively and will do everything to minimize and better to have no victims among the civilians," Putin said, TASS reported.

"Of course, we are not planning to fan hysteria about this as our partners in the West do because we understand that there is the need to fight against terrorism and there is no other way than an active fight," he added.

The president agreed that there are parallels between Mosul and the actions of Russia in Aleppo where Russia's troops try to prevent a humanitarian crisis and are criticized by the West for that. "The parallel is obvious," he said. "Of course, now we can point to our partners in Mosul and say that many civilians live there, hundreds of thousands of people, and using airpower and artillery is very dangerous in regard to possible victims," Putin added.
Killing civilians and causing a humanitarian catastrophe (as the
Red Cross
is warning about, citing the hundreds of thousands of displaced people the Mosul attack will result in) is only bad when Russia and Syria don't do it.
It's never a war crime when the Americans or their allies do it.