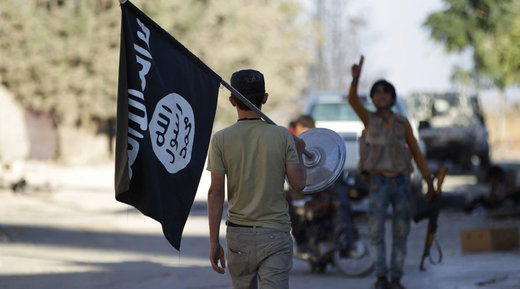 Islamic State militants in the northern Iraqi city of Mosul have crushed a rebellion
led by one of the group's own commanders
, Iraqi security officials and sources within the city told Reuters.
Fifty-eight people suspected of taking part in the plot were executed by Islamic State (IS, formerly ISIS/ISIL) after the plot was uncovered last week, according to residents, who say they were drowned and then buried in a mass grave.
Although Reuters has not named the alleged plot leader, fearing his family could be placed at risk,
he is thought to be a local aide of IS leader Abu Bakr al-Baghdadi
. It is believed
the aim of the plot was to degrade Mosul's defenses ahead of the Iraqi government's attempt to liberate the city
, which was seized by jihadist militants in the summer of 2014.
Hisham al-Hashimi, an IS expert who advises the Baghdad government, believes the plotters were exposed after one of them was caught with a message about weapons on his phone and who later confessed under interrogation to the plan to support the Iraqi Army advance.

Comment: There's a whole lot of "believing" going on in the above narrative. So basically, all we know is that Daesh allegedly executed 58 of their own.


Residents say the names of the 58 executed plotters were given to a hospital, but their bodies have not been returned to their families.
"Some of the executed relatives sent old women to ask about the bodies.
Daesh [IS] rebuked them and told them no bodies, no graves, those traitors are apostates and it is forbidden to bury them in Muslim cemeteries
," one resident whose relative was among the dead told Reuters.
Muhsin Abdul Kareem Oghlu, who is known to be an IS die-hard, has reportedly been appointed to replace the executed commander.
Iraqi forces are preparing to storm the IS stronghold in mid-October, according to US and Iraqi officials.
The area around Mosul, the second-largest city in Iraq and one of the key bases of IS operations outside Syria, has been gradually under attack over the last few months. With Kurdish Peshmerga forces having retaken much territory in the north and east, and the Iraqi government together with Iranian-backed Shia militias advancing from the south, Mosul is effectively surrounded except for a supply line linking it to Tal Afar in the west.
The United States currently has 4,565 troops in Iraq as part of a coalition against IS that offers training and advice to the Iraqi Army as well as air support to the Iraqis and the Kurdish Peshmerga fighters.