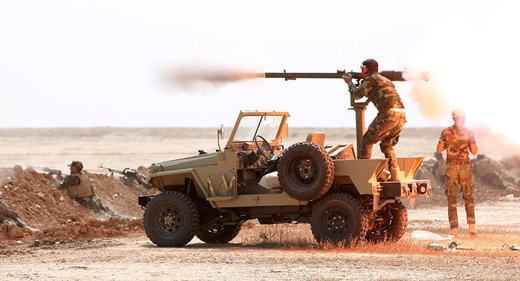 Iraqi media reports that at
least 65,000 Iraqi soldiers
in six divisions are preparing for the battle to retake the city of Mosul from the Daesh forces that have made it their headquarters in Iraq for the past two years.
Some 10,000 Kurdish Peshmerga fighters are also expected to join the battles that will bleed north and east of the city of over a million, Iraqi News reported, plus around 24,000 provincial police and members of the country's National Mobilization Forces - militia groups - as support.
The battle will be directed from Camp Swift, an American base near the Qayyarah airfield outside the city, CBS reported. There are estimated to be 6,000 US troops in the country, conducting air strikes alongside the Iraqi Air Force, and providing training, logistical, and maintenance support during the upcoming battle.
The fight to retake the city from the estimated 3,000-5,000 ISIS fighters still holding it is expected to start in weeks or days. In the runup to the battle, it is reported that the city is being ringed with bombs, with bridges booby-trapped and suicide bombers prepared to deploy.
Multiple sources say Kurdish forces expect Daesh to use chemical weapons.
A Pentagon spokesman said last month that some 800,000 people were expected to be displaced by the battle. Iraqi News reported that only 76,000 of the 300,000 tents expected to be in place for Mosul families fleeing the battle have so far been set up.