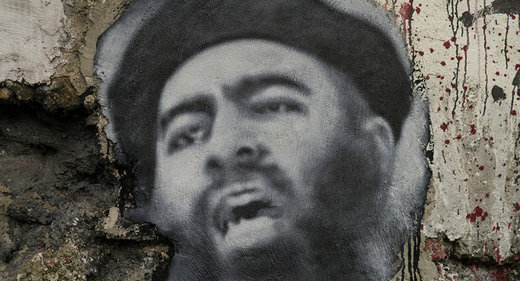 The top jihadist has been poisoned, the Iraqi Media News Agency said.
Daesh jihadist group ringleader, Abu Bakr Baghdadi, was poisoned together with three other commanders of the group in Iraq's northwestern Nineveh Province, local media reported Monday, citing a source. "There were intelligence reports that Daesh leader Abu Bakr al-Baghdadi and three leading commanders consumed food containing poison," the source in the Nineveh Province was quoted as saying by the Iraqi Media News Agency.
The source noted that the militants are "suffering from severe poisoning", and had been taken under strict supervision to an unknown location.
According to the source, the incident occurred in the south-west of Mosul near the Syrian border.
Daesh has reportedly launched a campaign of arrests in the area in an attempt to find those responsible for poisoning the commanders' food.
Al-Baghdadi's movements are known only by his inner circle,
with the leader constantly changing location in Iraq and Syria to avoid airstrikes.
Comment:
More from
FARS
:
Iraq's Sumeriya News cited a local source in the Northwestern Nineveh Province as saying that "accurate information" showed Baghdadi's food had been poisoned by unknown individuals and the food was given to him in the Be'aaj district, located Northwest of Iraqi province of Nineveh near the Syrian border.

The source added that the four have been transferred to an unknown location under strict measures. However the source was not sure if the poisoned food was given to the secretive ISIL leader in Iraq's Nineveh and before starting the journey to Syria or en route to the country.

The report on poisoning al-Baghdadi surfaced after media revealed on Sunday that ISIL's top commanders, including al-Baghdadi, have started fleeing Mosul for Syria.

"The ISIL commanders, including al-Baghdadi, are escaping Mosul to Syria," Iraqi Kurdistan Democrat Party's media director Saeed Mamouziti said.

The official added that al-Baghdadi has also ordered his followers to completely destroy Mosul if they are defeated in the war against Iraq's joint military forces.
Daesh has been ravaging Iraq and Syria since 2014. The terrorist group has overrun territory in both countries and has declared the city of Mosul in Iraq as the capital of Daesh's so-called caliphate. Daesh is outlawed in many countries around the world, including Russia and the United States.