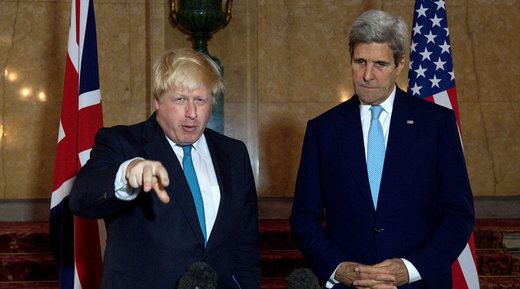 The US and the UK have called for an urgent ceasefire in Yemen, after the coalition led by Saudi Arabia bombed a funeral in early October. However, both Washington and London continue to funnel weapons to their Saudi ally.
US Secretary of State John Kerry met with his Saudi Arabian counterpart late on Sunday, stressing that "this is the time to implement a ceasefire unconditionally and then move to the negotiating table."
"We cannot emphasize enough today the urgency of ending the violence in Yemen," Kerry said, adding the truce must be achieved "as rapidly as possible, meaning Monday, Tuesday."
With military and logistics support from the Pentagon, Saudi Arabia is leading a coalition of Arab countries launching an air and ground campaign in Yemen against the Houthis, a Shia Muslim movement that ousted Yemen's Sunni President, Abd Rabbu Mansour Hadi.
British Foreign Secretary Boris Johnson and the UN envoy to Yemen, Ismail Ould Cheikh Ahmed, were quick to reiterate Kerry's calls.
"
The conflict in Yemen is causing increasing international concern.
The fatalities that we've seen there have become unacceptable... There should be a ceasefire that the UN should lead the way in calling for that," Johnson said.

Comment: When your massacres are a little too obvious, when you get called out a little too loudly, just call for peace to deflect any potentially pesky war crime investigations.


Saudi Foreign Minister Adel Jubeir said on Monday that there were some indications that a ceasefire could really be arranged in Yemen.
According to Jubeir, it's up to the UN to persuade parties in the conflict to return to the negotiating table. However, the FM added that that there can be no truce until Houthis "come to their senses" and acknowledge that Yemen is a "free country," Reuters reported.

Comment: Yemen is a free country. Hadi is a dictator whose term expired. Yemen is free, and free to be free from foreign invasions.


At least 4,125 civilians had been killed and 7,207 wounded in Yemen since March 2015 when the Saudi-led air campaign began. Since then, the coalition has on numerous occasions been blasted by international rights groups for carrying out indiscriminate attacks on civilian targets, including hospitals, schools, and weddings.
The worst bombing occurred on October 8 when the Saudi warplanes hit a funeral in Yemeni capital of Sanaa, killing 150 and injuring 525 civilians.
Riyadh acknowledged the attack and carried out an internal investigation, which concluded that it was a mistake caused by "bad intelligence" from the deposed Yemeni government.
According to Human Rights Watch, the attack on the funeral was carried out by "US-manufactured air-dropped GBU-12 Paveway II 500-pound laser-guided bomb."
Human Rights Watch has repeatedly criticized the use of US and UK-made weapons in Yemen, calling to "immediately" suspend arms sales to Riyadh. Washington and London continue selling weapons to Saudi Arabia, however, approving more than $20 billion and £2.8 billion ($3.4bn) respectively in military sales in 2015.
In 2015 and 2016, US arms worth nearly $3 billion were used to "replenish" Saudi firepower in Yemen, HRW said. In addition to the US, HRW blames the UK government of approving £2.8 billion ($3.4bn) in military sales to Saudi Arabia in 2015.
Besides arms sales, the Americans are sharing intelligence, reconnaissance data and refuel Saudi-led coalition jets in the air in Yemen.
After the Saudi strike on a funeral, Washington reacted by saying that its cooperation with Riyadh was "not a blank check" and promised to review its support for the operation in Yemen. However, those statements haven't been followed by any specific steps from Washington.