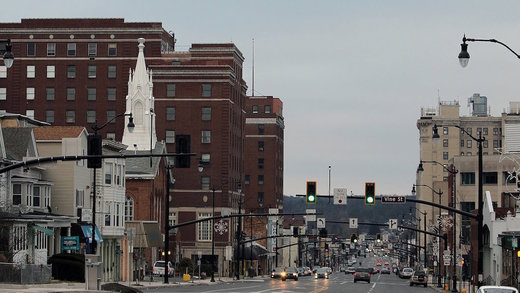 Things are certainly booming in Hazleton — the question is, what caused the loud blast heard by many throughout the area? At approximately 12:15 a.m. Sunday many residents across the Hazleton area reported experiencing what sounded and
felt like a "sonic boom" — rattling windows, and "echoing like an explosion,"
according to concerned resident Tom Heller.
"I've been hearing people report about it from all over," he said. "McAdoo, Hazleton, Packer Township ... even the Valley." The noise went viral on social media, drawing hypotheses from concerned residents as to what caused such a boom.
"We've haven't gotten any calls or responded to any incidents that were related to any type of boom like that," Hazleton Fire Chief Donald Leshko said. "We've heard people talking about this explosion, but there's nothing that we're sure of, or that we responded to."
While some cite a "sonic boom," "a meteor exploding in atmosphere" or "a high-tension power line breaking," the most popular guess points to the ignition of a methane gas pocket at the site of the Jeanesville mine fire, burning underground in Banks Township.

Many local residents also cite smelling sulfur — something common in methane-related incidents
. "I wish we had some answers, but nothing was reported in that region for the past few days," Colleen Connolly of the Department of Environmental Protection told the
Standard-Speaker
on Sunday evening.
The DEP, in conjunction with Hazleton Shaft Mining Company, are overseeing the Jeanesville fire operations. "I personally spoke with our director of mining operations down in the Pottsville district office, and he had no phone calls and no reports made in to us for that."
Despite the confusion, many local residents remain on alert. "With this fire burning, we could be the next Centralia," a local resident posted on social media. "Underground fires and explosions are no joke."
The alleged explosion is still under investigation with the DEP, and anyone with further information or reports of more "booms" in the Jeanesville area are asked to contact the state DEP at 570-621-3118.